Tips on Buying Spinner Luggage
by Staff Writer
Wheeled luggage has made moving through a busy airport so much easier, and spinner luggage takes that idea one step further. Spinner luggage doesn't just roll; it's wheels turn 360-degrees, allowing you to move through crowds with ease. If your next trip would be better with the help of spinner suitcases, follow these tips to find the luggage that's right for you.
Buying Spinner Luggage: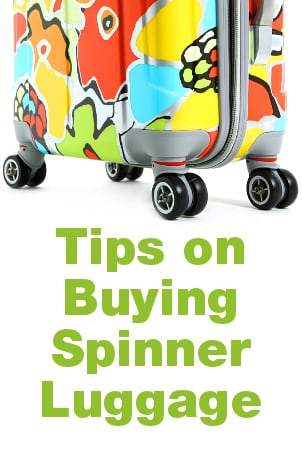 Shop Spinner Luggage Sets ▸
Look for strong wheels and casters:

Some spinner luggage has four single wheels, one in each corner of the bag. Others have eight wheels, or four double wheels. Whichever style you choose, make sure the wheels are evenly spaced for good balance. The wheels need to be sturdier than the wheels on regular wheeled luggage because they are not protected by the body of the suitcase. The best spinner luggage will have rigid, reinforced corners to give the wheels proper support.

Opt for durable, lightweight shells:

You can choose spinner luggage with either a hard shell or a soft shell. Whichever you prefer, make sure the shell of your bag is strong and padded enough to protect your belongings yet light enough to meet airline weight limits and be easy to pull. The best luggage will weigh less than 10 pounds when empty, use rip-stop fabric, or have thick, padded panels.

Consider buying luggage sets:

Sets ensure that you always have the right bag for your next trip. If you'll be gone on vacation for a week or more, a good set will hold everything you need to be away from home that long with a little extra room for souvenirs. For overnighters and weekend trips, use the carry-on included in your set; these smaller bags often still have the unique spinner wheels to reduce strain on your arms and back. The included carry-on is also a great bag to use when you're trying to pack light.

Don't forget about style:

If you have a favorite brand of luggage that has never let you down, you'll feel confident using the spinner luggage they make. If the look of the bag is more important to you than its maker, choose a fashionable spinner suitcase with an exotic animal print or a bright floral print. These options make spotting your luggage fun.

Read reviews before you make your selection:

Look for positive reviews about the maneuverability and strength of the wheels, the construction and usability of the telescoping handle, and the weight of the spinner luggage. Reading about other shoppers' experiences will help you determine which suitcases will be better for you.