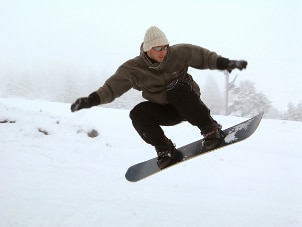 Most snowboarders want their snowboard pants to do three things: Keep them warm, keep them dry and make them look good. While the latter is a matter of personal taste, the first two requirements can easily be fulfilled. Be sure to choose snowboard pants or bibs that have the necessary features to make your day on the slopes a good one.
Buying Snowboard Pants:

Layers: Snowboard pants usually have two or three layers. The first layer should be made of a fabric that wicks away moisture from the skin. This is usually a tightly woven polyester blend. Many snowboarding pants do not include this layer, as some snowboarders would rather wear high-performance long underwear under their pants. The second layer is an insulating layer important for warmth. This layer is often made of synthetic fleece or pile, a synthetic fabric resembling fur. The final layer is a thin, breathable layer that allows you to move freely but is designed to be water-repellant or waterproof.

Fit: Choose pants that give you room to move and are also reinforced in the knees and seat -- areas where the snowboarder, especially the beginning boarder, will experience a lot of movement and impact. Extra padding in these areas is also a plus, but don't choose pants that are so bulky you will have trouble moving. An elastic waistband will bend and give as you turn and jump. Articulated knees are a common feature in snowboarding pants that allows a wider range of movement.

Options: Snowboarding pants can be simple, or they can have lots of additional features. Storm flaps cover seams and protect against wind and blowing snow. The stretch gaiters located around the ankles help keep snow out. Zippered pockets allow you to securely stow away items such as car keys. Zippered side seams allow you to open the top layer of your pants on warmer days, allowing air to flow into them. Some pants also have air-flow vents covered with mesh, but these are not usually meant to be worn in extreme weather. Alternately, sealed seams protect against water penetration and tend to be a little warmer.

Buy Pants and Bibs
Back to Guides Directory