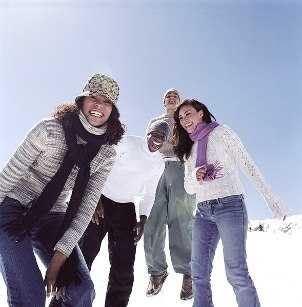 With winter rolling in and the snow piling up outside, snow boots can save you from a set of frozen toes. Warm, dry and stylish, the right pair of cold weather boots will keep you and your feet happy all winter long. How do you know which boots are for you? The following tips will help you understand winter boots so you can shop with confidence.
Buying Snow Boots:

Evaluate your needs: When you're shopping for snow boots, the first thing to do is to determine what you need the snow boots for. If you're planning on snowshoeing or doing any winter hiking, you'll likely want snow hiking boots with a heavily treaded sole. If you just need a pair of boots to get you to and from the ski slopes or even the grocery store, a stylish pair of slip-on snow boots will do the job.

Water resistance: Above anything else, you want your snow boots to be waterproof, no matter what activities you're using them for. The warmest pair of boots won't keep your toes toasty if they're wet. Look for waterproof boots made of water-resistant synthetics or waterproofed leather to keep your feet dry all winter long.

Warmth ratings: Keeping your feet warm and dry in the winter months is what snow boots are made for. The warmer the boot, the more comfortable you'll be trudging through ice and snow. For winter sports and shoveling snow, you'll want boots that are both warm and breathable. Look for waterproof leather or waterproof laminate boots. If you need a boot to keep your feet warm around town, choose fleece and fur-lined snow boots to keep you well insulated.

Traction: Aside from being cold, snow and ice are also hazardous and slippery. You'll want a pair of boots to keep you on your feet when it's slippery underfoot. For strenuous outdoor activities, you'll need a pair of cold weather boots with a heavily treaded rubber sole. For everyday wear, a pair of winter boots with a flexible rubber sole will help keep snow from building up on the bottom of your boot and offer enough traction to cross slick patches.

Weight: When you add layers of waterproof and insulating material and a thick rubber sole, snow boots can get heavy. Sometimes heavy isn't bad in snow boots, but other times you want a lightweight option. Snow boots made of light, synthetic materials are a great choice if you're looking for something to build snowmen in the back yard. A heavier pair of snow boots may be better for shoveling the driveway. If you're looking for something to wear for winter sports, you'll want your boots to be substantial, but not so heavy that they wear you out.

Buy Cold Weather Boots
Back to Guides Directory