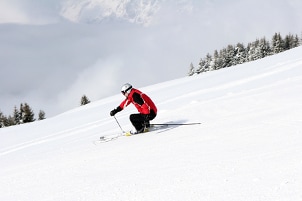 A big part of a fun day on the ski slopes is feeling comfortable in your ski jacket. If your ski jacket isn't keeping you dry or warm, you won't have as much fun skiing. When you're shopping for ski and snowboard clothing, pay special attention to the jacket you choose. A good ski jacket should be comfortable, functional and versatile enough so you can adjust to the ever-changing conditions on the mountain.
Buying Ski Jackets:

Adaptable: It can be tough to know what the weather will be like at the resort, and in the mountains, the weather can change quickly. Having a ski jacket that can adapt easily to the changes in weather conditions will keep you in the right temperature range. A ski and snowboard jacket with pit zips allows for quick and easy ventilation to keep you from overheating, and by being located in the arm pits, they won't significantly expose you to falling snow. A zip-out insulating liner will make your ski jacket a lot more versatile for vacations where you might not know what the weather will be like. By choosing the most versatile ski and snowboard clothing, you'll be able to use the same jacket for winter and spring skiing.

Go for looks: The way your ski jacket looks shouldn't be the most important factor in buying a ski and snowboard jacket, but you should like the way your jacket looks. You want to feel comfortable and confident on the slopes, and wearing a jacket you like will help you feel your best. You can find a simple, solid-colored ski jacket or one in a bold pattern -- and everything in between -- to match your style..

Extra features: A powder skirt is a nice addition to both women's ski jackets and men's ski jackets. The powder skirt is an interior feature that holds snug to your waist, keeping snow from coming up inside your jacket in a fall. A pass holder on your jacket shows off your ski pass without having the lift ticket flapping around in the wind. Interior pockets are nice for keeping your camera or a snack warm, and large exterior pockets are a nice addition to your jacket, ideal for storing warmer ski gloves or a balaclava should the weather be colder than you expected.

Buy Ski Jackets
Back to Guides Directory