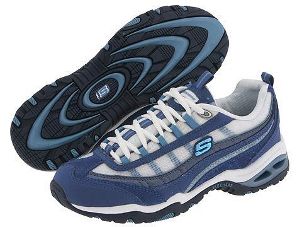 Known for their quality construction and stylish silhouettes, Skechers shoes are popular with both men and women, and they're great for kids, too. Read on for tips on buying Skechers for the whole family, whether you're looking for men's shoes or women's shoes.
Buying Skechers Shoes:

Buy Skechers dress shoes for work. To make a good impression in the office, try a pair of Skechers dress shoes. Choose a style that suits you and will look good with a suit and dress pants. Buy Skechers dress shoes in black or brown and look for unique details like buckles, straps and other hardware to add flair to an otherwise boring work outfit. Men's Skechers boots, especially those made of leather or suede, can be appropriate for an office environment as well. Look for low ankle boots and slip-ons for stylish Skechers men's shoes.

Find Skechers athletic shoes for everyday wear. Women's Skechers come in fun, vibrant colors that make a statement when worn with workout clothes or just jeans and a T-shirt. Buy a Skechers sneaker with a breathable mesh upper and cushioned sole for comfort or look for women's Skechers made of canvas or cotton for a more laid-back vibe. Skimmers, flats and other Skechers women's shoes are comfortable enough for a weekend trip or simply walking around town. Buy men's Skechers in black, grey or navy blue for neutral men's shoes that go well with both jeans and twill pants. Find Skechers men's shoes in flat, sporty styles for a casual look.

Purchase Skechers boots and sandals for fun. Keep your feet warm with Skechers boots, which range in style from ankle boots to knee-high boots. Look for women's shoes and boots made of leather or suede for a sleek look and find styles lined with fleece for warmth. When summer hits, pull out Skechers sandals and flip flops to stay cool. Skechers sandals and Skechers women's shoes come in fun, flirty styles, such as wedges, gladiators and slides. Don't forget to buy Skechers men's shoes and sandals for warmer months. Find comfortable leather slides and flip flops that go well with shorts and jeans.

Buy Skechers Shoes
Back to Guides Directory