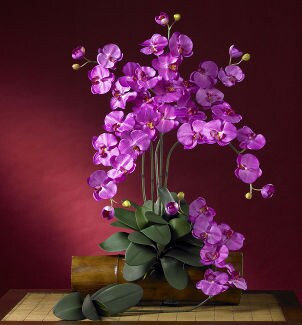 Keep beautiful flowers and plants in your home year-round when you buy silk plants. There's no watering or trimming involved, and you'll never have to worry about your artificial plants and trees wilting or becoming brittle. Whether you want stunning silk flower arrangements to display on your dining room table or artificial plants that can dress up your living room, the following suggestions can help you find the plants that work in your home. Read on for tips on buying silk plants.
Buying Silk Plants:

Choose silk plants that complement your home's decor. Since silk flowers last a lot longer than fresh flowers do, you'll want to spend a bit more time choosing artificial plants and trees you won't grow tired of. Make sure to pick arrangements that won't look out of place in the room you'll be placing them in. Silk flower arrangements that include peonies, roses and carnations will warm up a traditional room filled with antique furniture, while artificial flowers such as orchids, anthuriums and birds of paradise are the perfect accent in a sleek, contemporary room.

Buy silk plants that look realistic. In order for the fake plants and flowers you display to take the place of fresh ones, they need to look real and fresh-picked. Look for fake plants that have glossy petals and leaves for a realistic look, and make sure your fake flowers have the vibrant colors they do in nature. Steer clear of fake flowers that come with attached fillers, such as baby's breath, if they look too dry or papery. You can complete the effect by placing your silk floral arrangements in a vase with clear glass stones and acrylic water so they always look fresh.

Find silk plants that are easy to clean. Unfortunately, the drawback to artificial plants is that they can get dusty and dirty after a while and lose their vibrancy. If your furniture and home decor items tend to pick up dust easily, you'll want to make sure you choose silk floral arrangements and plants with wide petals and leaves that are simple to clean. Most artificial flowers can be shaken outside to remove dust and dirt, and you can even vacuum larger arrangements with a nozzle attachment if they are sturdy enough. Make sure your silk flowers and plants aren't too delicate for an occasional "dusting" with a blow dryer.

Buy Silk Plants
Back to Guides Directory