Tips on Buying Ray-Ban Sunglasses
by Lindsay Law
Protecting your eyes from the sun's harmful UV rays is important, so why not do it in style with Ray-Ban sunglasses? Since 1937, Ray-Ban has been known for its eyewear, especially its iconic aviator sunglasses. Designer sunglasses can make any outfit more glamorous and give you a sophisticated look, especially during the summer. Read on for tips on buying Ray-Ban sunglasses that flatter your face type and protect your skin and eyes.
Buying Ray-Ban Sunglasses: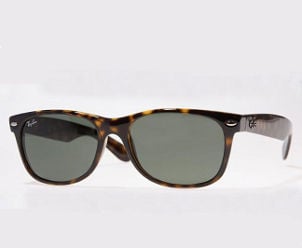 Shop Ray-Ban Sunglasses ▸
Buy aviators for a classic, retro look.

Ray-Ban aviator sunglasses are flattering on almost everyone because they have a streamlined look and wide, tinted lenses. Black Ray-Ban aviator sunglasses always look sophisticated, but you can also look for frames with green, violet, light blue or gold translucent lenses for a cool, trendy vibe.

Purchase wayfarers for your inner movie star.

Worn by Hollywood celebrities since their introduction more than 50 years ago, Ray-Ban wayfarers will give you a classic, iconic look each time you wear them. These designer sunglasses are easily recognizable due to their thick, square frames and trademark black color, but Ray-Ban wayfarers also come in tortoiseshell, red, white, light blue and many other colors today.

Look for polarized styles.

To reduce the sun's glare while you're skiing, boating or participating in other sports outside, buy Ray-Ban polarized sunglasses that fit your style and will protect your eyes. Wraparound sunglasses will shield your eyes from the sun, as will Ray-Ban polarized sunglasses with wide lenses. Find sunglasses with brown or grey lenses for a twist on the traditional black lenses and look for classic Ray-Ban styles in polarized options so you don't have to sacrifice fashion for function.

Find men's and women's styles.

Surprise your husband with a pair of Ray-Ban men's sunglasses for his birthday or for a holiday gift. Aviators and wayfarers are both classic, but you can also purchase Ray-Ban men's sunglasses with a sporty look or styles made for active lifestyles, such as the Daddy-O or the Cockpit. Purchase women's Ray-Ban sunglasses for your wife or daughter as the perfect summertime present. Wraparound sunglasses are flattering on almost everyone, and aviators are a popular style of women's Ray-Ban sunglasses because they never go out of fashion.