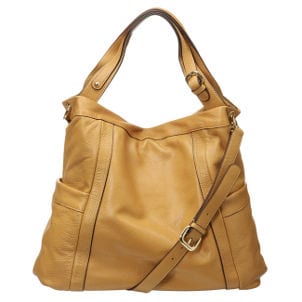 Whether you need handbags that are professional enough for the office or purses in funky colors that make a statement when you're out with friends, you can find the discount handbags you want in styles you love when you check out the Presa handbags collection. Save money and create handbag envy among your friends when you follow these tips on buying Presa handbags.
Buying a Presa Handbag:

Choose a style you like. A hobo handbag is a popular choice among Presa discount handbags because of its slouchy, easy-to-carry shape, but there are many purses available for different occasions. Find a shoulder handbag in black, brown or grey for a neutral bag perfect for the office and buy a tote handbag with a roomy interior to carry beach supplies or yoga gear. The Presa collection is known for its quality leather handbags, especially leather satchel handbags, so you can find a compact bag or large tote that fits your needs and your personal style. Try the Kennington, a roomy hobo bag with gold hardware and large side pockets, for a classic handbag.

Buy a versatile handbag. Even a funky tote handbag in bright cherry-red leather can complement many different outfits and carry a variety of items. Look for satchel handbags that can hold essentials, such as lip gloss, a driver's license and cash, for a night out with friends and a planner, notebooks and pens for the office during the day. Leather handbags, such as the Kennington or the Madison, are classic enough to carry to a formal business dinner or on a laid-back summer vacation, and a shoulder handbag is sturdy enough to serve as a laptop bag for work, too.

Find bright hues and colors. Why stick to a boring brown hobo handbag when you can buy fashion handbags in electric blue, moss green and dusky purple? While neutral fashion handbags are probably most appropriate in many workplaces, a day of shopping, running errands or even going to a movie deserves a fabulous Presa handbag that makes a statement. Try a satchel or purse in a metallic silver shade for a glamorous look that is still subdued; or go bold with a sleek turquoise shoulder bag in a style such as the Kennington or Maxwell. Don't forget to buy at least one bag with fun details, such as zippers, extra pockets and chunky hardware, to serve as an everyday bag you can show off.

Buy Presa Handbags
Back to Guides Directory