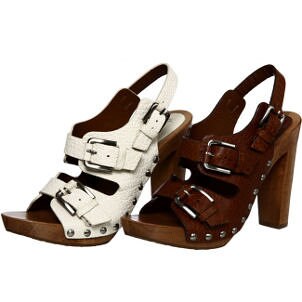 Leave your boring women's sandals in the closet and take a step up -- literally -- in a great pair of platform sandals this year. Whether you're looking for strappy platform sandals to dress up a skirt or leather platform sandals you can wear with jeans or shorts, high platform sandals add classic style to any outfit. Read on for tips on buying platform sandals this season.
Buying Platform Sandals:

Choose a height that works with your body type. If you're tall, you may want to look for women's platform sandals with lower wedge heels; petite women can rock high platform sandals or even stiletto platform heels if they prefer. Consider where you will be wearing women's platform sandals as well: Sky-high platform heels won't be comfortable for a long day at work or an outdoor summer party.

Find a cute style. Sandals are designed with various strap widths and materials and flirty shapes and silhouettes. Try a pair of silver platform sandals in a glamorous T-strap style for heels you can wear with jeans or a simple sheath dress; their metallic sheen will dress up any outfit. Strappy platform sandals that show off manicured toes and toned legs are also a great option, especially if you want to set off a pretty pencil skirt. Make bermuda shorts look even cuter with a pair of leather platform sandals that feature peep-toe detailing and floral accents.

Pick a color. For neutral footwear that can go with everything, buy a pair of white platform sandals; their classic look adds sophistication to sundresses and cotton skirts during the summertime. White isn't your only option: Brown platform sandals complement denim shorts and skinny jeans, and silver platform sandals look stunning with white cotton jeans or a little black dress.

Consider your wardrobe. Look at the clothes hanging in your closet if you're unsure of the best style and colors when purchasing new sandals. If you wear clothes with mostly vivid hues, you may want to simplify your footwear and buy white platform sandals. Light, earthy clothes look best with brown platform sandals, and a neutral wardrobe full of light colors or traditional browns and navy blues will benefit from a pair of black platform sandals.

Buy Platform Sandals
Back to Guides Directory