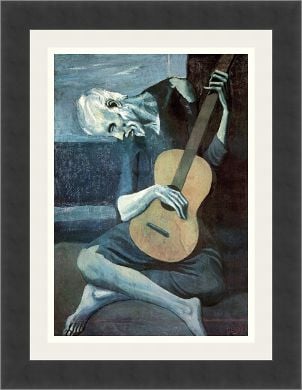 Add interest and depth to any room when you buy prints by Picasso for your home. Known as the founder of Cubism and an ever-evolving artist of the 20th century, Pablo Picasso created an estimated 50,000 pieces of art during his life. Why not hang one of these famous Picasso paintings or drawings in your living room? Whether you want a large reproduction of Picasso's Three Musicians or prefer simpler Picasso art pieces, such as The Camel, the following suggestions will help you find the Picasso artwork that fits best in your home. Read on for tips on buying Picasso prints.
Buying Picasso Prints:

Buy Picasso prints that won't look out of place in your home. Many of the works done by Pablo Picasso feature bold, avant-garde techniques that make powerful statements. While you can mix contemporary Picasso prints with traditional decor and artwork, you'll want to consider the rooms where you plan to display these paintings before buying them. Large or bold art prints can become the focal point of the room, so you'll want to keep other pieces neutral, including furniture and decor pieces, so that the paintings by Picasso will stand out.

Consider the size of the Picasso prints. If you plan on hanging several Picasso paintings in your living room or even your bedroom, you'll want to make sure you have enough space to accommodate each piece. A poster-sized Picasso print is perfect for a large open wall, especially if you plan to group smaller pieces together on another wall. If you don't have the space for oversized Picasso artwork, consider hanging a few 11-inch by 14-inch paintings in a row for a similar effect. Famous Picasso paintings should be displayed separately, however, so that they stand out.

Decide between unframed and framed Picasso prints. Many paintings by Picasso are printed on canvases and then framed for a clean, crisp look. Frames also protect Picasso art pieces from damage and dust. If you prefer a look more reminiscent of an art gallery, however, you'll want to buy unframed Picasso paintings to display in your home. These pieces feature an authentic matte look and give any room an earthy, old-fashioned feeling. Look for Picasso artwork that has been coated with a UV finish to ensure that your painting will last for many years to come.

Buy Pablo Picasso Prints
Back to Guides Directory