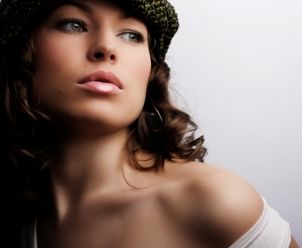 For a stylish, flattering alternative to simple sleeveless shirts, why not try a one-shoulder top on for size? These women's blouses look stunning on women of many different body types because they show off a sculpted shoulder and camouflage other bumps and bulges. Whether you're looking for a women's tank to show off great collarbones and arms or a sleeveless shirts made of smooth fabric, you can find the right women's blouses to flatter your figure. Read on for tips on buying one-shoulder tops.
Buying Women's Blouses:

Decide on a style. A one-shoulder blouse can come in women's sleeveless shirt styles and women's tank styles, so you have many different options to choose from. If you're unsure of which one-shoulder blouse will look best on you, look at the tank tops and women's shirts you already own. Do you look best in ruffled women's blouses or long tank tops? You'll be most comfortable wearing women's shirts in styles you like.

Pick details you like. Once you've chosen a basic silhouette you like, search for women's shirts with accents that make them unique. A one-shoulder ruffle blouse would look stunning with skinny jeans and heels, especially in a neutral color such as white, brown or black. Make a statement in a women's sleeveless shirt, such as a peasant blouse made of a pretty floral fabric or look for a shirt in a bright color, such as royal blue, cherry red or orange, to stand out. A flutter-sleeve one-shoulder top made of slightly stretchy fabric is casual and comfortable yet still dressy enough to wear on a date or a night on the town. Look for an off-shoulder blouse that includes rosette detailing for a romantic look and purchase a tank top-style blouse with one shoulder or sleeve and beaded accents for an edgy look.

Find a figure-flattering fabric. If you have a curvy tummy or full bust you want to camouflage, a one-shoulder ruffle blouse made of a clingy material is probably not best for you. Look for blouses made of fabrics such as chiffon that skim over your curves or find an off-shoulder blouse made of cotton, linen or polyester for a comfortable fit.

Buy Sleeveless Shirts
Back to Guides Directory