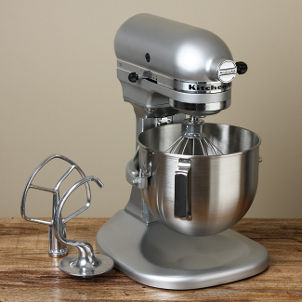 What's your kitchen style? Are you a baker who whips up cakes and pies from scratch? Do you make homemade bread and pasta? Or have you never met a boxed cake mix you didn't like? The way you cook and the food you like to eat will determine the best mixer for your kitchen. Follow these tips to make sure the one you buy meets your needs and your tastes.
Buying a Mixer:

If you don't do a lot of baking, you'll want to buy a hand mixer. These compact tools allow you to beat eggs or mix flour, sugar, and other dry ingredients as well as whip pancake batter until it's smooth. A hand mixer usually has about five speeds for slowly mixing or rapidly beating your batter, but some models have up to nine. You can also buy a mixer that includes removable attachments, including blender tools, whisks, and drink rods for creating cocktails. A 250-watt motor is sufficient for the casual cook.

If you frequently make cookies, cakes, and bread, you'll want to buy a stand mixer. Known for its stability, this type of kitchen mixer is ideal for thick doughs and batters. Look for a model that is powerful enough to handle your recipes. If you make bread often, you'll need to buy a stand mixer that has at least 325 watts of power. If you bake often, consider buying a mixer that has 525 watts, so you don't wear down the motor with heavy use. These often have up to 10 speeds, so you'll be able to make a variety of foods.

If you love convenience, look for a mixer with extra features. Make sure it comes with useful attachments and tools to make the cooking process easier. A food mixer that includes a pouring shield and wire whisk is handy for everyday baking, but you can also buy types of electric mixers that come with pasta makers, slicing tools, strainers, and even sausage makers to simplify your recipes. If you want to buy a model specifically to use as a bread mixer, look for one that includes sturdy dough hooks and a food-grinder attachment for adding nuts and fruits to your favorite breads.

If you have limited counter space, opt for a hand mixer. A hand mixer can fit easily into a cabinet or deep drawer. If you have a small kitchen, this will help save space.

If you have a spacious kitchen, a stand mixer can be a showpiece. A stand mixer will be the best choice for larger kitchen with chef-quality appliances. They're available in a wide variety of colors and finishes, so you can choose one that coordinates with your decor and that can be a gleaming decorative piece, whether it's in use or not.

Buy Mixers
Back to Guides Directory