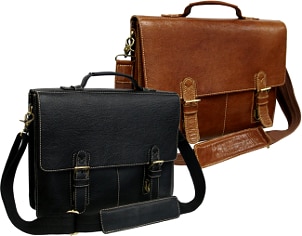 An alternative to backpacks and briefcases, messenger bags sling easily over the shoulder and rest loosely against your hip. Their streamlined design makes them perfect for holding papers and laptop computers while still giving you easy access to the contents. The ease and comfort of messenger bags have quickly transformed them from serving as bags for messengers to an essential piece of gear for anyone on the go.
What You Need to Know:

Are you going to put a laptop inside? Messenger bags are perfect for carrying laptop computers. But if you are going to be putting your laptop in your bag, you will want a bag with a separate, padded compartment that protects your computer. You may also want to look for bags with several pockets and compartments for storing computer accessories like your power cord and flash drive.

Think about how you'll be using it. If you travel a lot and will be using your messenger bag as a carry-on, you might want to consider the durability of a polyester or nylon bag. You will probably also want some zippered pockets and secure buckles so that everything doesn't fall out of your bag when you're going through airport security or pulling it out of an overhead bin. If you are going to be using your bag as a diaper bag, make sure it is large enough to hold all the diapers, wipes and powder you will need. If you will be carrying a lot of heavy books, look for a thick, padded shoulder strap.

Choose a material. Messenger bags are made of leather, cotton, polyester and canvas. The rich, supple look of a leather messenger bag is versatile enough to go with a suit at the office or flip flops at the coffee shop. Whereas leather bags are usually black or brown, other materials offer a wide range of color options. Some messenger bags will even have patterns or designs on the flap.

Consider the weather. If it rains a lot where you live, you will want to select a messenger bag capable of protecting its contents from moisture. Most polyester and leather bags will provide this extra protection from the elements.

View All Messenger Bags
Back to Guides Directory