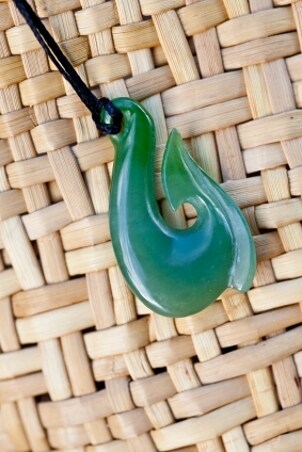 Jade is considered one of the most stunning gemstones available, and with its low cost and incredible versatility, it's no wonder jade jewelry is so popular. Jade jewelry has a decidedly masculine appearance, especially when it is set into simple settings and paired with sleek metals. If you are looking for men's jewelry with gleaming gemstones and a laid-back aesthetic, then consider men's jade jewelry. Men's jade jewelry selections, such as lustrous rings, textured bracelets, mystical pendants and simple earrings, quickly add value to any jewelry collection. Take your men's jewelry assortment to the next level with jade.
Buying Men's Jade Jewelry:

Colors: Men's gemstone jewelry may incorporate famous green jade or feature unique yellow jade. Green jade is classic and masculine; green jade rings, bracelets and necklaces can be worn with almost anything you own. Blue, purple, pink, red and white jade is also common in jewelry. Many men prefer gemstone jewelry with green, blue, red or white jade while others will love the bright colors of pink, purple and yellow jade jewelry. Jade is often set into white gold, platinum or sterling silver because the neutral silver shade complements almost any color. Green jade, red jade and yellow jade also looks great in gold gemstone jewelry.

Styles: Men's gemstone jewelry is available in so many different styles, and jade jewelry is no exception. Rings with one large jade gemstone are simple and dramatic at the same time, and jade cuff bracelets add a lot of this cool gemstone to your look. Mystical jade jewelry quickly connects you to the past and historical Asian cultures.

Stone shape: Jade is a strong stone that is perfect for carving and shaping. Jade beads are incredibly popular; consider jade beaded bracelets and necklaces for your collection. Jade can be carved into many different shapes, including dragons, Chinese characters and feathers. These large pieces of jade can be hung from a leather cord for an interesting and versatile necklace. Jade is commonly carved and engraved, and engravings are often dyed to enhance their appearance. Choose a jade stone shape that will complement the stone's color and the style of the jewelry.

Buy Men's Jewelry
Back to Guides Directory