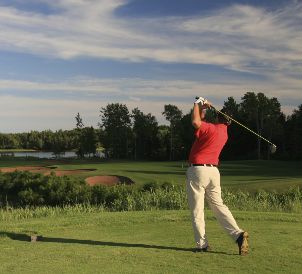 Look stylish on and off the golf green when you purchase men's golf shirts. Whether you're looking for golf polo shirts, long-sleeve golf shirts or other golf clothing, you can find the styles that will suit you and keep you comfortable during your game. Read on for tips on buying men's golf shirts.
Choosing Men's Golf Shirts:

Buy polo shirts for comfort. On a warm summer day, lightweight golf polo shirts will keep you cool and allow you to move easily. Look for polo shirts made of cotton or linen for golf shirts that are easy to care for and don't wrinkle easily. Buy men's golf shirts in white, grey, tan or other light colors during hot weather. On cooler days, long-sleeve golf shirts will keep you warm, without sacrificing style and comfort.

Purchase button-ups for a different look. If you're bored with golf polos and other polo shirts, why not try casual button-ups as part of your golf attire? Striped or checked casual shirts look nice with khaki shorts or pants, as do simple plaid shirts. Make your golf apparel more interesting with a patterned button-up or a crisp collared shirt with a logo or monogram emblazoned on the front pocket. Button-ups are a great way to personalize your golf attire.

Find golf sweaters to wear in chilly weather. When the wind is blowing and the weather has started to cool, you can still enjoy your game while wearing golf sweaters and other warm men's golf clothing. Look for golf sweaters made of microfiber or cotton in flattering colors such as black, navy blue, hunter green and cream over golf polos for a classic look to wear on the green. Purchase golf apparel made of nylon or polyester for especially windy days and look for golf clothing you can layer in case the weather gets warmer throughout the day.

Buy Men's Golf Shirts
Back to Guides Directory