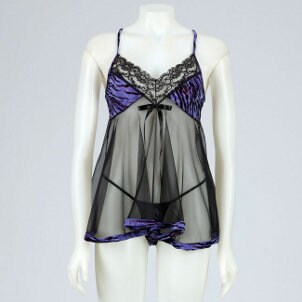 Buying lingerie can be an intimidating experience. There's the expectation that lingerie will be both sexy and alluring, and that can make purchasing intimate apparel a challenge. While there's certainly room for bedroom-ready lingerie in your collection, there's also lingerie designed for daily wear; stock up on panties, bras and hosiery and leave the corsets for special occasions.
Buying Lingerie:

Decide what you need: Bras and panties are essential to any woman's wardrobe. Don't skimp on the basics; clothing will fit better and you'll be more comfortable with high-quality undergarments. Take a look at your wardrobe. If you wear a lot of skirts, a few slips might be in order. If you love tight T-shirts, then choose bras with full coverage and smooth seams for a sleek look.

Don't be afraid of color: Many women confine themselves to plain white bras and panties. While these items have their place, there's nothing wrong with expanding into colors and textures. Nude is the most basic bra color; a true neutral, it works better than white under a white T-shirt. If you're wearing a colorful top, thick shirt or patterned sweater, you can easily get away with a lacy, patterned or textured bra. Colorful panties are concealed in all but the clingiest of skirts. If you're wearing something especially tight, light in color or clingy on the bottom, consider a thong, g-string or other seamless undergarment to prevent visible panty lines.

Determine your size: Choosing bras and other underwear in the correct size is an important step in looking and feeling your best. Ill-fitting bras can leave you looking lumpy under clothing, and too small panties can cause uncomfortable pinching. The band of your bra should be in the same place all the way around your body, not higher or lower in back. Take a deep breath; if your bra is constricting your breathing, then it's too tight.

Assess your options for laundry: Many lingerie items, due to their lacy construction or delicate embellishments, are supposed to be hand washed. This is fine as long as you have the time to hand wash your delicate items and remember to check the tags. Machine washable underwear is out there; check the description before washing if you're unsure.

Treat yourself: Once you have the essentials, you can supplement your lingerie drawer with some whimsical additions. You can start small with a brightly patterned camisole for sleeping or dive right in with a sexy set of lace thigh highs and matching shelf bra. Whatever you choose, make sure it fits; there's nothing sexy about discomfort.

Buy Intimates
Back to Guides Directory