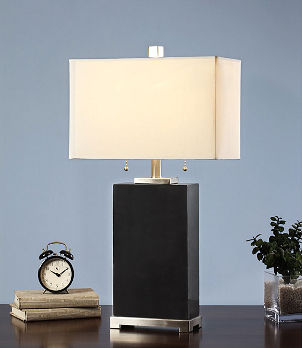 It's easy to spruce up old lighting fixtures with the right lamp shades for your home. Whether you need to refresh your table lamps or make reading lamps more inviting, you'll probably need a bit of information before you buy lamp shades that will work with your lamps and your decor. Read on for tips on buying lamp shades.
Buying Lamp Shades:

Measure your lamp. Before you buy lamp shades, you'll want to make sure you get the right size. Measure the height from the base of the lamp to the bottom of the lamp socket; the width of the table lamp shade should be equal to the height between the base and the bottom of the socket. You should also buy lamp shades that are wider than the base to keep your modern lamps looking proportional. If you're buying a floor lamp shade, however, the size of the shade doesn't matter as much.

Figure out which lamp shade type will work. Check your floor lamp to determine how to attach large lamp shades to it. Some accent lamps have lampshades that clip onto the light bulb, while others mount to a harp, a wire frame around the sides of the bulb, or fit beneath the bulb. Check your lamps before shopping to ensure that you are buying lamp shades that will fit.

Complement the lamp style. While funky lamp shades can add a whimsical touch to contemporary lamps, your lamps will probably look best when paired with shades that play off their styles and colors. Purchase large lamp shades to set off a lamp with a wide, distinctive base and shop for square or circular shades to make modern lamps look fresh.

Keep your surroundings in mind. If your home decor is primarily contemporary, retro accent lamps with bold lamp shades may not work best for your living room. Look for a neutral lamp shade that will show off an interesting lamp base instead, or make your contemporary lamps stand out with torchiere-style shades. You'll also want to choose larger lampshades for your reading lamps, especially if you'll be browsing through magazines in a dim room.

Buy Table Lamps
Back to Guides Directory