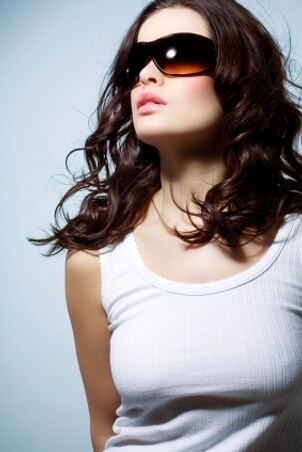 Whatever the season, you'll need sunglasses to protect your eyes -- so why not purchase Lacoste sunglasses you'll look stylish in all year long? Since 1933, Lacoste has been known for its iconic polos and sportswear -- and now, you can get authentic sunglasses in a sleek, sophisticated style from this historic brand. Choose aviator sunglasses for a classic, unisex style or purchase oversized sunglasses for a glamorous movie star vibe. No matter which designer sunglasses are your favorite, Lacoste has the styles that will suit your face shape and your personality. Read on for tips on buying Lacoste sunglasses you'll love.
Buying Lacoste Sunglasses:

Buy styles with protective lenses and frames. Your first concern when purchasing Lacoste fashion sunglasses should be your eyes. If you have fair skin and sunburn easily, fashion sunglasses with wraparound frames or oversized sunglasses may be best, because they protect the delicate eye area from sun exposure. Polarized sunglasses reduce the sun's glare, making them perfect for sports, such as water skiing, snowboarding and fishing. Splurge a little to make sure the sunglasses you like have UV protection; avoid cheap sunglasses with flexible frames and easy-to-break lenses.

Pick stylish shapes for a signature look. Every pair of Lacoste sunglasses, including both men's sunglasses and women's sunglasses, features the trademark Lacoste crocodile on the temples and a sleek, streamlined look. Show off your great taste with designer sunglasses that showcase unique frames and gradients. A pair of aviator sunglasses with mirrored lenses is always fashionable, as are authentic sunglasses with square rims and tortoiseshell frames. Squared Lacoste polarized sunglasses or shades with gradiated lenses are also an excellent choice.

Find frames that work with your face shape. When you're purchasing men's sunglasses, look for frames with square or sporty oval lenses; these complement most men's faces. Women's sunglasses with wide wraparound lenses can overwhelm petite features, while sunglasses with round or oval lenses may not work as well for women with angular faces. Don't purchase cheap sunglasses that bend easily around the bridge of the nose; Lacoste sunglasses are made of durable metal and plastic to ensure that you'll look sophisticated for many years to come.

Buy Lacoste Sunglasses
Back to Guides Directory