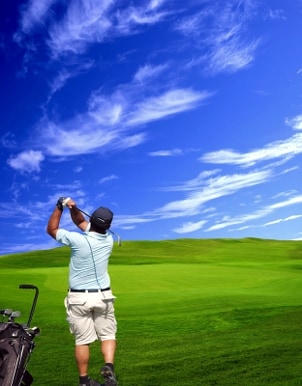 Using a poor-quality golf bag can diminish your experience on the links. So taking a little time to find the right golf bag for you can pay benefits for years. Whether you are looking for a golf cart bag or a golf carry bag can make a big difference in how you approach shopping for a golf bag. So decide how you like to play the course and follow these tips on buying golf bags.
Buying Golf Bags:

Organization: Dividers in golf bags help keep your golf clubs separated and organized, which makes it easier to find the club you want. Full-length dividers keep your club handles from getting tangled in the bottom of the bag. Dividers also vary in how many compartments the bag is divided into.

Straps and handles: Good straps and handles are more important if you carry your bag on the golf course, but they are still important if you use a cart. These points of attachment are often the first points of failure on a golf bag. Multiple rivets and stitching will help keep the straps from tearing loose from the bag over time. Straps that wrap around the bag more evenly distribute the weight of the bag and are best for holding up over time. Golf bags with thick, padded straps are more comfortable to carry than bags with thin shoulder straps.

Pockets: Pockets provide you with places to store all your golf accessories, and the more pockets you have, the more organized you can keep your tees, balls, markers and other equipment. But pockets tend to add weight to the bag, so decide whether weight or organization is more important or find a blend that balances both.

Weight considerations: The weight of the bag is far more important if you don't use a cart. A couple pounds of weight make a big difference when you are carrying it over 18 holes. Of course, to lose weight, you will often have to sacrifice features like lots of pockets, a putter tube, a full-length divider and more. If you use a golf cart, you will only have to worry about getting your golf bag from the house to the car and the car to the cart, so go ahead and get all the extra features you want.

Materials: Leather golf bags aren't very common anymore. Other materials, like synthetic leather, polyester and nylon, are more durable and weather-resistant than leather. Golf bags made out of synthetic materials also tend to cost less than a comparable bag made of leather.

Buy Golf Bags and Carts
Back to Guides Directory