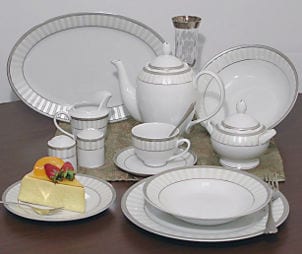 Set your table elegantly for special occasions when you buy the right formal dinnerware for your home. Whether you want to celebrate an anniversary with your best glass dinnerware or dress up a holiday gathering with creamy porcelain dinnerware, the following suggestions will help you buy dinnerware that makes any occasion more distinctive. Read on for tips on buying formal dinnerware.
Shopping for Formal Dinnerware:

Buy formal dinnerware that complements your dining room style. While you may like the bold style of contemporary dinnerware sets, geometric patterns and shapes will probably not work well with a traditional table and chairs. Keep your furniture and furnishings in mind before buying any fine dinnerware for your home. Classic round porcelain dinnerware will balance both traditional and modern decor styles, and you can buy dinnerware with square plates, bowls and saucers if you'd like a unique set to complement eclectic patterns in your home.

Look for formal dinnerware sets that include enough settings. If you usually have a lot of family members visit your home on holidays, you'll want to make sure to buy dinnerware sets with enough pieces to accommodate all of your guests. The best dinnerware sets will include at least eight plates, saucers, cups and bowls and also feature salt and pepper shakers, a teapot, sugar bowl and serving bowl. Most dinnerware sets only include service for up to 12 guests, however, so you'll want to buy multiple sets if you'll be serving more than 12 at your home.

Shop for formal dinnerware that can be washed easily. Most fine dinnerware must be washed by hand, as it is delicate and often features silver or gold leafing. Glass dinnerware is particularly fragile and must be cleaned carefully so it doesn't break or chip. No matter what the material is, however, the best dinnerware will be stain-resistant and wipe clean with soap and water. Plates with delicate grooves and carved patterns may be more difficult to clean, so keep that in mind if you want your elegant dinnerware to be low maintenance.

Purchase formal dinnerware that can store well. Whether you have a beautiful curio cabinet to display your treasured elegant dinnerware or a simple kitchen cabinet, you'll want to buy dinnerware that is durable enough to be stored for many years. Make sure the plates and bowls stack together well and don't chip; you may need to line each piece with tissue paper for further protection. Teapots and cups should also be sturdy enough to be stored in your kitchen.

Buy Formal Dinnerware
Back to Guides Directory