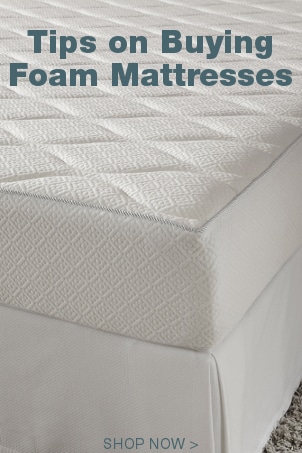 Improving your mood can be as easy as investing in a memory foam mattress. These supportive mattresses cradle the body, alleviating the tossing and turning that keep you from getting a full night of sleep. You may not realize just how much interrupted sleep is costing you. If you find yourself feeling tired and drained even after getting eight hours of rest, it's time to look into purchasing a foam mattress. Before you start shopping, consider these tips on buying foam mattresses.
Buying a Foam Mattress:

Target a price range: Foam mattresses can range greatly in price, depending on certain features, so the first thing you'll want to do when purchasing one is to narrow your price range. This will help you eliminate extraneous mattress options from the start. Standard foam mattresses can start around $150, while luxury beds may cost over $2,000.

Choose memory foam, gel memory foam, or latex: If you're concerned with keeping your bedding environmentally friendly, you may want to look at latex. Made from liquid taken from rubber trees, latex foam mattresses are typically firmer than mattresses made from memory foam. Memory foam mattresses are made from synthetic materials, but they are more elastic and cradle your joints better than latex. Gel memory foam has all the support of traditional foam, but it is infused with gel beads, which allows for better airflow and a cooler sleeping surface. All mattresses are hypoallergenic and great for allergy sufferers. If you want a bed of medium firmness, choose a mattress with a latex core and a memory foam topper.

Look at thickness: Depending on your needs, foam mattresses can range in thickness and be anywhere from 6 to 14 inches. A 6-inch foam mattress will generally provide as much support as a foam topper, while a foam mattress that is 14 inches typically includes a firm core and lots of padding.

Decide on density: In addition to thickness, you'll want to look at the density rating of potential foam mattresses. Memory foam falls into three categories: soft, medium, and firm. Soft is anything under four pounds. Medium refers to anything between four and five pounds, and mattresses over that are firm. Most people opt for a medium density, since the firmness of memory foam mattresses takes getting used to even if it's not technically considered firm.

Think about tops: Choose a mattress top based on your preferred sleep position. If you sleep on your back, you'll like a tight top. If you sleep on your side, your shoulders and hips could use the extra padding of a plush top or pillow top.

Shop Foam Mattresses
Shop Foam Mattress Toppers
Shop All Memory Foam
See All Guides
Read More Bedding Guides
Learn More about Memory Foam