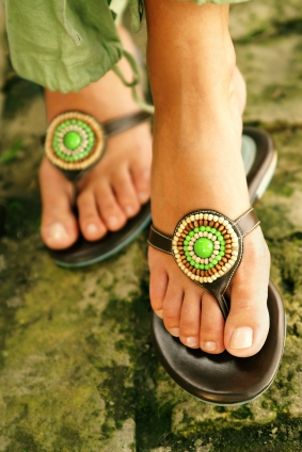 Spring has sprung and summer is on its way, which means you need a great pair of sandals. Why not try a pair of embellished sandals for a glamorous, easy-to-wear accessory this season? Beaded sandals, jeweled flip flops, platform sandals and other women's sandals are just a few of the styles that will add a bit of sparkle to any outfit. Read on for tips on buying embellished sandals.
Buying Unique Footwear:

Evaluate your wardrobe before picking sandals. Look at the clothes you own and wear frequently. If your wardrobe is pretty casual, a pair of beaded sandals might be the best option, as these sandals will add earthy glamour to many different outfits. If you wear a lot of dressy pieces and like a bohemian chic look, jeweled flip flops will probably suit your style. Leather sandals embroidered with designs will complement shorts, jeans and skirts, and wedge sandals with silver or bronze hardware and metallic fabrics will update a trendy wardrobe.

Choose a style and heel height. Women's sandals, especially flip flops, are often comfortable options because of their flat soles and easy-to-wear style, but other fashion sandals may also work better for you. Try leather sandals with a slight heel to add height if you're average or buy a pair of platform sandals encrusted with rhinestones or silver hardware to look taller if you're petite. Wedge sandals come in all different heights, and these fashion sandals look great with shorts, jeans and long skirts, especially sandals with beading or pretty embroidery.

Buy statement sandals for special occasions. Events such as weddings, dances or formal parties are great reasons to search for fashion sandals that go with a specific outfit. Why not choose glamorous designer sandals decorated with crystals for your wedding day? Or, if you've been asked to be a bridesmaid, add class to your dress with metallic platform sandals or stiletto-heeled sandals. When you're headed to a formal business dinner, pull out delicately beaded designer sandals. Don't forget to buy wedge sandals for a cocktail party or evening with friends; black or silver wedge sandals will look glamorous with a little black dress of any style or length.

Buy Sandals
Back to Guides Directory