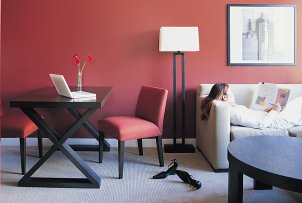 A cold room can be a huge inconvenience any time of the year. Keeping an electric heater on hand ensures that your basement won't go to waste in the winter and that your guests will be comfortable during any season, even if you prefer to run the air conditioner nonstop during the summer. Handy space heaters come in many styles and include a variety of innovative features. Look for these options when shopping for electric heaters.
Buying Electric Heaters:

Tower heaters: Tower heaters are ideal for many homes because they heat a room from the ground up. They sit on the floor, so they don't interfere with your home's decor, and their tall and slim design takes up very little space. Tuck a tower space heater behind the couch and bring it out only when you need it.

Oscillating heaters: Oscillating heaters, like oscillating fans, rotate on a base to evenly distribute heat throughout the room. Most tower heaters oscillate and some tabletop heaters have oscillating capabilities, too.

Combination heaters and air conditioners: If you're looking to invest in one unit that can do a lot for the comfort of your home, consider combination heaters and air conditioners. Use these units year-round in every room in your home.

Miniature heaters: If you are looking for a small heater for your guest room or a portable electric heater to move from room to room, consider a miniature heater. You'll save a lot of space with a small heater, and miniature heaters sport the same features as full-size heaters, including oscillating options and the ability to run only the fan without heat. Some miniature heaters have built-in nightlights and run on batteries so they can be placed anywhere.

Heaters with thermostats and timers: Many electric heaters have thermostats, allowing you to set them like you would a traditional home thermostat. Electric heaters with timers are also very convenient, especially if you have a large home. Try heating up the basement for a set amount of time before starting your movie or leaving your heater on to a specific temperature during a party.

Buy Heaters
Back to Guides Directory