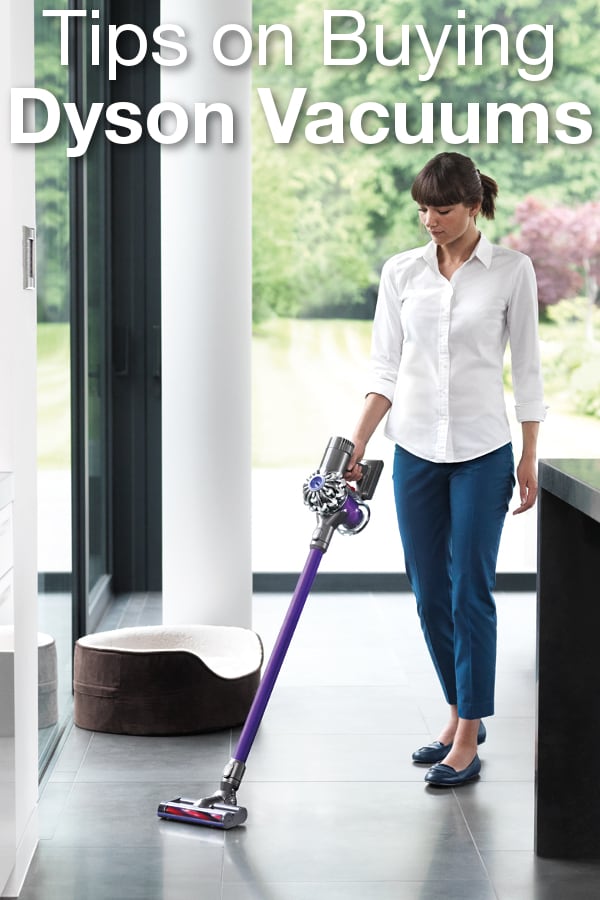 SHOP THE DYSON STORE NOW >>
Since 1993, the Dyson Company has been manufacturing quality cyclonic vacuum cleaners. These days, they're famous for their efficient bagless vacuums, which eliminated the need for vacuum bags. If you've decided to buy a Dyson vacuum, you've made a great choice, and your house is about to be a lot cleaner. But before you make your purchase, you need to consider a few things, so you can make sure you choose the right type of Dyson vacuum cleaner for your home.
Before You Buy a Dyson Vacuum:

Think about the size of your home. For a small house or an apartment, a cordless is the perfect choice. Most models have about a 20-minute charge on the regular setting, or about 6 minutes on the high power setting. This is enough time to do the floors of a smaller place if you vacuum regularly. If you have a medium size home or a place with lots of stairs, like a town home, then you will appreciate a canister vacuum cleaner. These are powered by cords, so you can spend more time on your floors, yet they are just as easy to maneuver in tight spaces. If your home is larger and has many rooms with wall-to-wall carpeting, then you'll want the power and capacity of an upright. Thanks to the clever design, your Dyson upright will still be able to get into tight spaces while also being able to cover lots of floor and hold all the dust that you capture.

Determine your specific cleaning needs. While there are several models of Dyson vacuum cleaners, the first thing you'll want to consider is which type is right for your home: an upright, a canister vacuum, or a cordless vacuum. Then you'll want to think about whom you're cleaning up after and what your floors are like.

What Are Your Cleaning Concerns?

Pets: Cleaning up after dog hair or kitty litter is a top concern for pet lovers, and Dyson Animal models are the best option if there are any furry friends in the house. Luckily, there are Animal models of the cordless, canister, and upright Dyson vacuums.

Allergies: Dyson vacuum cleaners contain HEPA filters, which are designed to trap the fine particles that other filters miss. If you have allergies, you'll especially appreciate the DC65, which is currently the most powerful model of Dyson available.

Wall-to-wall carpeting: If you have wall-to-wall carpeting, you'll want either a canister or upright model, so you'll have the power to get the entire room completely clean.

Stairs: If you have stairs, carpeted or not, you'll have the easiest time cleaning them with either a cordless (which turns into a handheld with a few clicks) or canister Dyson.

Many types of flooring: Switching from a tile floor to a carpeted floor is easy with a Dyson Multifloor model, which allow you to turn off the beater brush for the hard floors. There are upright and cordless Multifloor Dysons available. Dyson's canister vacuums can be used on any floor type without needing to adjust anything.

Consider the storage space you have. A cordless Dyson will need to have the charger mounted on a wall; a spot in a laundry room or utility closet will work as long as it is close to an outlet. Canister vacuums and upright vacuums don't need to be parked near an outlet, so a closet is often the best place to store one.

Understand the warranty. Upright and canister models come with a five-year warranty on part and labor, while cordless models have a two-year parts and labor warranty. Refurbished Dyson vacuum cleaners purchased on Overstock™ are covered for 180 days, but you can purchase an extended warranty, if you would like.

Shop Dyson Vacuum Cleaners
Shop Dyson Floor Care Tools
Shop the Dyson Store
See All Guides
Read More Home Guides
Learn More about Housewares
Published May 10, 2011
Updated March 12, 2015