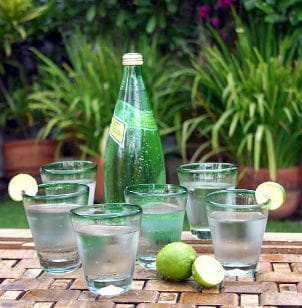 Serve family and friends and set your table stylishly with durable drinking glasses. Whether you want plastic drinking glasses kids can easily sip from or elegant crystal glasses to set the tone for a formal party, you're sure to find the right glasses and tumblers with the following suggestions. Read on for tips on buying drinking glasses.
Buying Drinking Glasses:

Choose glasses you can use every day. While you may be tempted to invest in crystal glasses or etched glass tumblers for your home, you'll probably want to buy simple glasses that aren't too formal for daily dinners. Look for tall, clear drink glasses for a classic look that works with many types of dishes or buy plastic drinking glasses for everyday use so you don't worry about damaging your fancy glassware.

Keep the style of your dishes and your kitchen in mind. Before you decide on any drinkware, you'll want to look at the dishes you own and consider the way your kitchen is designed. Colored glass drinkware will complement a vintage kitchen that features vibrantly patterned plates and bright accent walls, while clear water glasses work well with simple white ceramic plates and elegant crockery. If you have a contemporary kitchen, you'll want to buy simple drinkware with clean, straight lines. Tall, cylindrical glasses work well for this type of kitchen and complement both round and square plates.

Find different sizes for different occasions. If you'll be using your glasses primarily for drinking water or soda, you can buy simple tumblers made of clear or subtly colored glass. For serving wine, beer and other cocktails, however, you'll want fancier glassware. Buy delicate stemmed goblets to hold both red and white wines. Look for thick glass mugs or sculpted drink glasses with narrow bases for a traditional look. Martini glasses with narrow stems and wide, conical tops are also nice to have on hand, even if you'll just be sipping virgin daiquiris.

Buy glasses to pull out for special events. Celebrate a birthday, anniversary or even a job promotion by setting out your best glasses. Goblets etched with monograms will make a great impression and can personalize any party. You can also create an elegant atmosphere with crystal tumblers or colored martini glasses with sugared rims.

Buy Tumblers
Back to Guides Directory