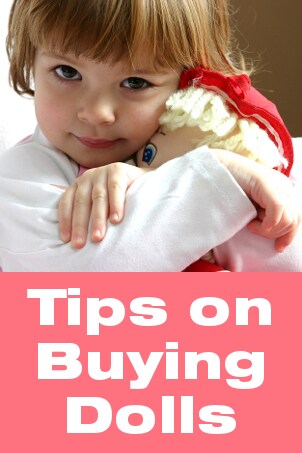 SHOP DOLLS & DOLLHOUSES NOW >>
Doll collecting is popular among those who grew up playing with baby dolls and fashion dolls and those who have had collectible dolls passed down to them. Some people have even taken it up because of a developing fascination with the many different kinds of dolls and dollhouses. Whether you are buying collectible dolls or dolls to play with, here are some helpful shopping tips.
Doll Buying Tips:

Determine if the doll will be collected or played with: This is one of the most important factors to keep in mind. A doll that will be kept as a collectible should not be played with.

Think of who the doll is for: If it's going to be for an older person, it will most likely be for collecting. If for a child, it will most likely be played with. However, if you're getting a collectible doll for a child for their future, have it put away, so it will be preserved until they're old enough to understand the concept of collecting.

Consider the doll style: Some people prefer certain styles over others, while other people like to have multiple styles. The style can consist of the way the doll is made, the era it represents or was made in, the material it's made from, the hair, the clothes, and even the accessories that may come with it.

Know the brand or maker: Don't be fooled by knock-offs or fakes. Just as with most popular items, there may be dolls that are made to look authentic but are really imitations. Check the sources of authenticity to be certain you're getting what you're paying for, especially with fashion dolls.

Consider doll accessories: Whether you're getting a doll for playing with or collecting, many have accessories that can be purchased separately, which may include anything from clothing to dollhouses. If the doll is collectible, having the accessories will add to the value. if the doll is for play, accessories will add hours of fun.

Consider the age: Baby dolls and soft dolls are best for young children. Toddlers learn empathy by playing with baby dolls, and many dolls are designed to be played with in a nurturing way. A 10-year-old my prefer a fashion doll, so she can play games that help her get used to the idea of growing up.

Maintenance: Some dolls require maintenance. Think of those realistic baby dolls that essentially do everything a real baby does. Consider how easily it can be washed as well. Some people prefer to keep things simple.

Investment: Consider the cost, any extras, and if it will require additional purchases later. Also, think of how often the doll may be used and how it will be used. Dolls can be an investment for the future as well as an investment in hours of fun for a child.

Shop Baby Dolls
Shop Collectible Dolls
Shop All Dolls & Dollhouses
See All Guides
Read More Toy & Hobby Guides
Learn More about Collectibles