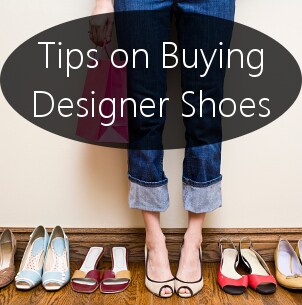 The biggest designers set the bar for the rest of the fashion industry. Their runway looks serve as inspiration for every style of clothing and shoes. Sometimes it's worth having the best. If you want to step out in designer shoes hot off the runway, this guide will help you find the right pair.
Buying Designer Shoes:

Look for deals. You're probably going to spend a pretty penny on a pair of designer shoes, but that doesn't mean you can't find a great deal on them. You may want to consider looking for them off-season. A pair of shoes a season or two old are going to be significantly less expensive than the brand new line from the designer. Many designers even clearance out their current line to get ready to introduce a new one. Another easy way to find good deals is to shop online. You can usually find both current and older styles for significantly less online because online retailers have access to better deals and less overhead than department stores. You can oftentimes find free shipping, too.

Check for authenticity. One of the dangers of buying designer online is the risk of purchasing counterfeit items. There are, however, ways that you can determine if you're getting what you're paying for. One of the first things to check for is if the shoes come with the dust bag and box. Designer shoes will also have a serial number either printed on a tag or embossed along the inside edge of the shoe. Designer will always be higher quality, but this can be harder to determine. Look at the quality of the materials and construction. Real designer shoes will use higher quality materials, like leather, lambskin, wool, and satin. Seams should line up evenly and have even, tight stitching. Lastly, if there are product reviews, read them to see what others have said.

Keep budget in mind. Hopefully you've found a good deal on designer shoes already, but you still want to stick within your budget. Designer styles can get very expensive, especially if they're from the designer's newest line. Decide your budget ahead of time and shop for shoes that fall within that price range. You may not be able to get the hottest new design, but you may be able to get last season's looks or a similar pair of shoes from a year or two ago. Then again, if you can afford that brand new pair of pumps, there's nothing stopping you. The key is to decide a budget ahead of time. That way, once you start shopping, you'll know which shoes you can afford and which ones you can't.

Think about longevity. Designer shoes are built to last. Their high-quality materials and construction are part of what makes them so superior. Designer shoes, however, lead the rest of the market in trends, and as a result, even they can go out of style. If you're spending designer prices, you want to make sure the product is something you can wear for years to come. Avoid the eye-catching, statement styles and choose classic looks instead. A basic pump, flat, or riding boot will always be in style, as will some of the designer's trademark looks. Many designers create variations on the styles their made famous for. A pair of shoes from the designer's trademark line will have more longevity than the stand-out shoe of the season.
What Do You Want to Do Next?

Shop for Designer Shoes
Shop the Designer Store
See All Clothing & Shoes
See All Guides
Read More Clothing & Shoe Guides
Learn More about Shoes