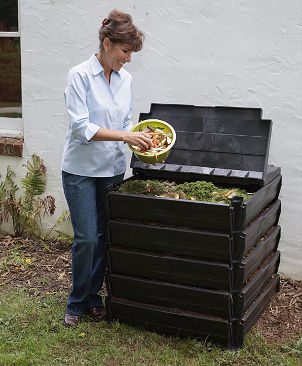 Improve your soil and cut back on household waste when you buy composters for your home. Whether you are new to composting, which involves breaking down and recycling organic materials, or are simply shopping for a composter that fits your space, you're sure to find the right tools with the following suggestions. Read on for tips on buying composters.
Buying a Composter:

Choose between indoor and outdoor composters. If you'd like a convenient, compact unit for composting kitchen scraps under your sink or in the pantry, buy an indoor composter. Look for an airtight container that does not vent odors into your home and can contain at least 5 gallons of compost. You can find an indoor composter that decomposes a variety of foods, including dairy products and even bones, if necessary. To save on space in the kitchen and compost bigger loads, you'll want to buy a garden composter. Choose between rubber, recycled plastic or even stainless steel units, and make sure to buy a garden composter with a tight lid to contain odors and keep animals from getting into it.

Consider the amount of compost you'll be able to generate. Fertilizing a large vegetable garden will take a lot of compost and a big home composter, too. If you have an expansive yard and know how to compost lawn clippings, leaves and manure, you won't have trouble creating enough compost to supplement your garden and flower beds. If you live in an apartment or small home and don't have much of a yard, you'll want to share a home composting unit with other tenants or place small compost bins beneath your sink to collect occasional kitchen scraps. Compact, covered compost bins meant for kitchen use will generate enough compost to supplement indoor plants or a small flower patch outside.

Buy composters that are easy to move and dump. Once you learn how to compost properly and continue to add kitchen scraps, clippings, weeds, sawdust and other materials to your home composting bins, you'll need to be able to dump the compost without any trouble. A tumbling composter will mix your scraps together and compost them quickly, and its easy-to-open hatch allows you to easily dump compost on your garden or flower bed. Look for a tumbling composter that includes drain holes to extract compost tea, a supplement for either foliage or soil, or buy a barrel composter you can easily roll to your destination when you need to dump your compost.

Buy Composters
Back to Guides Directory