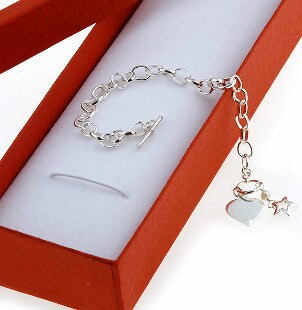 A tiny beaded bracelet on a baby's wrist is one of the cutest sights on earth. Children's jewelry is one of the best ways to dress up your kids or allow them to dress up themselves. Children's jewelry is available in many different styles, from designer jewelry that is perfect for weddings and special events to costume jewelry that is great for everyday wear. When buying kids' jewelry, it is important to consider several factors. Our tips on size, style and materials will help you select baby jewelry and jewelry for children that will last, fit and look great for years.
Buying Children's Jewelry:

Rings: Rings are fun for children and babies because they are generally easy to wear and add a lot of shine to outfits. Sterling silver and gold children's rings in the designer jewelry category will last a long time, and some pieces of kids' jewelry are also made of durable stainless steel and titanium. Costume jewelry will be right for many occasions, especially since many babies and young children will quickly outgrow rings.

Bracelets: Children's bracelets are adorable and make a perfect jewelry gift. Bracelets for children are available in many different styles. Cuff bracelets made of silver or shiny platinum are often decorated with phrases, hearts or gems. Link-style baby jewelry can be decorated with tiny keepsake charms. You may even find children's bracelets made of leather, nylon or canvas; these bracelets are perfect for older children.

Necklaces: Necklaces are good for school-age children, but many styles should be avoided on babies and young children because they may pose a choking hazard. Elastic necklaces are best for younger children. Silver and gold chains with pretty or fun pendants are great for older children. Necklaces are perfect for flower girls; consider purchasing children's jewelry that matches the bride's jewelry selections.

Headbands: Headbands are not always thought of as jewelry, but they add a lot to a baby outfit or little girl's ensemble. Cloth and elastic headbands with flowers and lace are perfect for spring and summer events. Stiff headbands made of plastic or metal are good for older children and keep your little girl's hair in place.

Earrings: Many parents choose to pierce their child's ears at a young age, and many young girls request pierced ears as well. Clip-on earrings are also available for children. Consider children's earrings with novelty shapes or shiny gemstones. Petite earrings are best for babies and young children.

Sets: Children's jewelry sets are a good way to purchase matching pieces on a budget. Choose from jewelry sets with matching necklaces, bracelets, earrings, rings and hair accessories. Children's jewelry sets make great gifts.

Buy Children's Jewelry
Back to Guides Directory