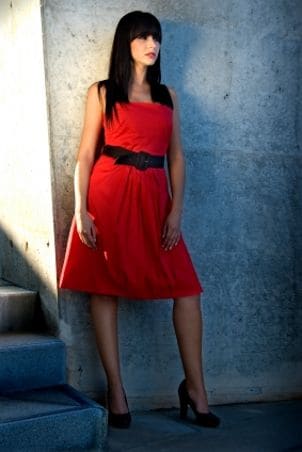 Whether you're looking for a dress to wear around town or just to the workplace, casual dresses will keep you comfortable and still look polished enough for an evening with friends or a business meeting. Finding flattering casual dresses can be simplified with just a few shopping steps. Read on for tips on buying casual dresses that fit well and look great.
Shopping for Casual Dresses:

Buy a sheath dress for a polished look. A classic sheath dress, especially a black casual dress, can take you from the office to an outdoor dinner to an evening on the town with friends. Look for a stylish linen sheath dress you can layer beneath a cardigan or blazer for a formal business meeting. Add a white belt and white heels to a black casual dress for a '60s vibe perfect for almost any occasion.

Find a knit dress for laid-back days. Buy a flowing knit dress in a wrap style or find a stylish A-line dress that flares from the bodice for a look that flatters every figure. Make sure you purchase a size that skims over curves instead of hugging problem areas; an A-line dress will draw attention to your waist and camouflage wide hips and a curvy tummy. Purchase a knit dress in a color that complements your skin tone.

Purchase sundresses for warm weather. When it's summertime, you can stay cool by wearing sundresses in vibrant colors. Among the most versatile women's casual dresses, sundresses can be dressed up with heels and glamorous accessories or serve as stylish long casual dresses for the beach when you add flip flops and sunglasses. Find women's casual dresses, especially sundresses, in floral or geometric prints for a fun warm-weather look.

Get long casual dresses for every day. Whether you like empire waist dresses in a maxi style or long casual dresses that fall straight from the waist, these styles are comfortable and perfect for a casual day spent running errands or even hanging out with friends. Find a slightly shorter dress to wear if you're petite, as a long dress that skims your ankles can overwhelm your frame and make you appear smaller. Empire waist dresses that hit you at about the knees are flattering and will accentuate your shape.

Buy Casual Dresses
Back to Guides Directory