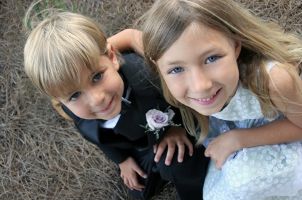 You want your wedding day to be perfect, and every detail counts -- even the boys' wedding shoes. Buying the right pair of boys' wedding shoes can be a tricky task. You'll want your children's shoes to both look good and feel good. Whether you're having a romantic winter wedding or a ceremony on the beach, these tips can help you find the right boys' wedding shoes to outfit your little wedding guests.
Buying Boys' Wedding Shoes:

Think about style: Like everything else at your wedding, you'll want to make sure that the boys' wedding shoes you choose fit with the mood of your wedding. If your wedding is classic, look for shiny black loafers or oxfords. If your wedding is more casual, a matte black or brown shoe will fit in well. For a vintage wedding, look for wingtip boys' wedding shoes. A pair of nice sandals will suit a beach wedding well.

Go for comfort: Everyone wants their shoes to be comfortable, especially little boys. You don't want your ring bearer to kick off his shoes because they're uncomfortable. In general, leather is more comfortable than synthetic materials because it softens and "breaks in," whereas synthetic leathers do not. You may want to also look for shoes with padded insoles and goring that allows the shoe to stretch to a comfortable fit.

Keeping them on: Uncomfortable shoes aren't the only reason your ring bearer may be pulling off his shoes. Boys, especially toddler-age boys, simply love to take their shoes off. While there's not much more you can do than chide older boys for taking off their shoes, buying the right shoes for toddler-age and young boys can help keep toes covered all through the evening. Slip-on shoes are easy to slip off, and shoes with laces are only a small obstacle for busy fingers. Look for shoes with buckles and other closures that are hard for little fingers to undo.

Size them right: Little feet grow fast, and if you purchase boys' wedding shoes a few months before the wedding, chances are he will have outgrown them by the wedding. Plan ahead and purchase shoes a size or two larger, depending on how far away the wedding date is.

Buy Children's Shoes
Back to Guides Directory