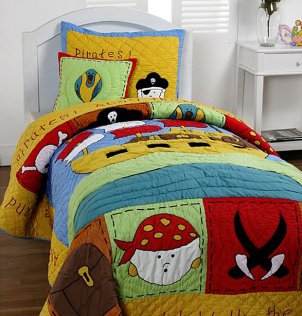 Shopping for boys' bedding can be difficult. It's not that boys' bedding is hard to find: there's a wide variety of kids' bedding available today. Still, your boys are important, and you want to find the perfect sheets and comforters for them, ones that they'll love snuggling into for years to come. While the exact boys' bedding sets that you choose depend on your own and your boys' tastes, you can narrow down the options and simplify the choosing process by keeping in mind a few helpful tips.
Buying Boys' Bedding:

For longevity, buy oversize boys' bedding. There's a good chance that you have a twin-size or full-size bed in your son's room, and it would make sense to buy the same size of boys' bedding; however, if you purchase bedding that is a size up from the bed or beds you're shopping for, you can save a little money and use the same bedding when your boy graduates to a larger bed. If you're worried about fitted sheets fitting a smaller bed, you can buy inexpensive sheet clips that will keep fitted sheets tight.

Keep hobbies and interests in mind when you buy boys' bedding. Do your boys like sports, science, art or race cars? Half the fun of decorating your boys' room is to tailor it to their interests, and there are plenty of themed boys' bedding sets out there that will help you create a room your boys will love. You can find boys' bedding sets in fun prints and patterns, from basketball to zoo animals; or, if you want something a little more subtle, try buying boys' bedding sets in colors that match your boys' interests, like sports team colors.

Buy boys' bedding in durable fabrics. Your sons probably aren't very concerned about how soft their sheets are, which would lead you to believe that you don't need to buy high thread count boys' bedding. While high thread count boys' bedding is definitely softer than cheap boys' bedding, it's also more durable. Young boys aren't known for being gentle, and buying durable, quality boys' bedding can actually save you money in the long run.

Decide how long you want to use your boys' bedding. Buying themed or patterned boys' bedding is a great idea, and your boys may love it, but fire engines and cartoon dinosaurs don't have a lot of staying power. If you plan on changing the look of your boys' room every couple years -- and changing boys' bedding as your boys grow can be a lot of fun -- then go ahead and buy that bulldozer boys bedding set. If you want your boys bedding to last longer, opt for something fun but less themed.

Buy Boys' Bedding
Back to Guides Directory