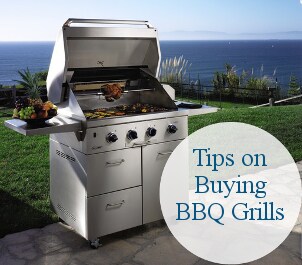 Nothing says summer like the smell of food cooking on a BBQ grill. If you're planning to buy one, be sure to keep these tips in mind while you shop. When you know what to look for, you'll end up with the grill that's perfect for your lifestyle.
Shopping for BBQ Grills:

The type of grill you choose will affect the flavor of the food you cook on it. While many guests probably will not be able to tell a difference between foods roasted on a gas barbecue grill and a charcoal barbecue grill, some grilling enthusiasts insist that charcoal adds a better flavor to grilled foods. Though charcoal may give your food a smokier taste, you can get the same grilled texture and juicy taste with both gas and electric barbecue grills.

Some grills are more convenient to use than others. If you don't have a lot of time to grill, you'll probably want to buy an electric barbecue grill. This style of grill is the perfect solution for a small condominium or apartment where gas and charcoal barbecue grills aren't allowed. Simply plug it in on your patio or balcony and start cooking. Propane-powered barbeques are also simple to light and only take about 10 minutes to heat up.And while charcoal may give food the most flavor, it will take the longest to heat up.

Initial cost may affect your choice. Charcoal barbecue grills are typically less expensive than gas barbeques. They also have a simpler design and fewer parts than gas grills, which makes them more difficult to break and a long-lasting investment. Charcoal can be expensive if you're grilling frequently over the summer, but this type of outdoor grill will usually cost less to operate than a gas model. However, some of the best barbecue grills are powered by gas and can be just as durable as charcoal styles. Propane is not expensive, and one tank can last for months.

Choose one that is the right size for your space and your crowd. When you have a small patio or even a simple balcony at your apartment, you'll want to buy a portable barbecue grill to save room. Look for models with sturdy wheels you can move easily; you can also buy a portable barbecue grill with a removable stand if you'd like to take it on a camping trip. If you have more space and regularly serve a crowd, make sure you choose a grill that can accommodate a lot of food at once.
What Do You Want to Do Next?

Shop for BBQ Grills
Shop for Grill Accessories
See All Outdoor Cooking Gear
See All Guides
Read More Garden & Patio Guides
Learn More about Outdoor Cooking