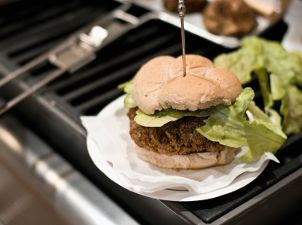 Your backyard party will be even more memorable when you buy BBQ accessories for your grill. With the right tools, you can make any get-together a hit. Whether you need grilling accessories, such as durable spatulas and tongs, or sturdy scrub brushes for cleaning grimy barbecue grills, these tips will help you find the barbecue grill accessories that work best.
Shopping for BBQ Accessories:

Look for BBQ tools made of quality materials. When you're roasting meat and vegetables over a blazing hot grill, ordinary kitchen tools just don't hold up. Make sure to buy BBQ accessories crafted from stainless steel or strong hardwood that can withstand high temperatures; BBQ tools made of plastic can melt or warp with extreme heat. You'll also want to look for spatulas, forks, and tongs that feature heat-resistant handles for easy gripping.

Consider the types of food you barbecue most often. If you frequently make kebabs when you have barbecues, you'll probably want to buy long metal skewers. Grilling hot dogs will be much easier with a new pair of stainless steel tongs, and you can roast corn on the cob with a few sturdy corn holders. Cooking burgers and chicken breasts will require a large spatula, and you'll want a quality basting brush for coating your vegetables and meats with butter and sauces while you grill them.

Look for BBQ accessories that will help you try something new. Once you have tools for your favorite foods, shop for a few things that you've always wanted to try. A meat smoker, a seafood steamer, or a hardwood grilling plank would give you new outdoor cooking menu options.

Consider buying BBQ accessories in a set. If you spend a lot of time cooking outdoors, you may want to buy a barbecue grill accessories set. Many of these sets include skewers, brushes, tongs, forks, spatulas, and many other tools that will come in handy. Sets also make wonderful gifts for friends who have just purchased barbecues and are just beginning to grill. If you're more familiar with outdoor cooking and want to try more advanced techniques, look for kits that include specialty barbecue tools, such as branding irons, Cajun injectors, and large pizza spatulas.

Don't forget to shop for practical pieces. Cleaning and storing your barbecue may not be on your mind when you're shopping, but these are essential tasks. Look for special brushes to clean your grill, and shop for a cover for your barbecue grill to protect it from the elements.

Have some fun with your BBQ accessories. If you're having a barbecue, you're probably having a good time with family and friends, so make sure you have some accessories that will add to the festive atmosphere. An outdoor cooler will keep drinks cold and close to the action. A funny apron will lighten the mood and protect the chefs clothes.
What Do You Want to Do Next?

Shop Outdoor Cooking Accessories
Shop BBQ Grills
Shop All Grills & Outdoor Cooking
See All Guides
Read More Garden & Patio Guides
Learn More about Outdoor Cooking