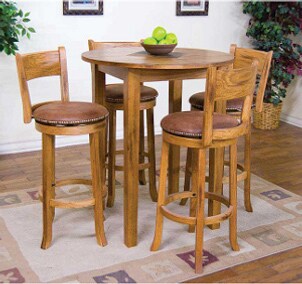 A lot of people think of bar tables as an afterthought when in reality a bar table can be the main focus in any room. They're stylish and functional and the perfect addition to any party or gathering. When looking at bar tables, it's important to remember that there's more to consider than just appearances. Many people just buy the first table they see. Don't make that mistake. Instead, take these tips on buying bar tables with you when you shop to make sure you get the best bar table possible.
Buying Bar Tables:

Usage. What will the traffic be like in your bar table area? If you plan to put your bar table in a high-traffic area, you'll want to find a bar table with an extra-sturdy base to avoid potential messes and spills from guests bumping the table.

Height. Make sure your bar table isn't too tall or too short for you or your guests. If you do want to invest in a tall bar table, then think about adding bar stools to the whole mix. Make sure you measure your bar table and bar stools to ensure they fit together.

Material. There are several material options when it comes to bar tables. Would you like one made out of plastic, wood or metal? Sometimes you can even find ones made from leather. Check out your home decorations and plan to find a bar table that will match your home. You'll want something that will hold up under heavy usage. Using a plastic bar table in a room for decoration and storage is ideal. Wood and metal are better suited for high-traffic areas because they are more impervious to bumps and knocks.

Size. Who is going to use the bar table? Are there only two of you or are you planning to entertain a large crowd? Take into account who's going to fit around the bar table. How many people do you want to fit? Make sure you have enough space for good usage. If you get a large bar table for lots of guests, you'll want to avoid putting it in a small room where it will be difficult to use.

Indoor or outdoor. A wooden bar table outdoors runs the risk of warp and other weather damage. Wooden bar tables are better suited for the indoors. If you really want a wooden bar table for outside, make sure you get a protective cover to place over the table when it's not in use. Metallic bar tables work well indoors and outdoors.

Buy Bar Tables
Back to Guides Directory