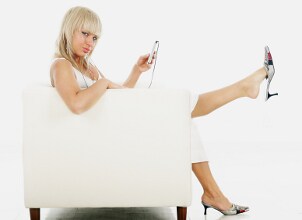 MP3 players are fast becoming a must-have accessory. They keep us occupied on our daily commutes, energize our workouts and allow us to listen to our favorite music anywhere. Because of the speed of technology and the number of MP3 players on the market, it can help to know what features to look for when you're buying a new player. Luckily, for every MP3 player there are basic options like storage capacity and battery life. Considering your usage needs and building upon these basic options will help you choose the perfect player.
Selecting MP3 Players:

Find enough storage capacity: Think about how much music you hope to store on your MP3 player. Most portable MP3 players can hold at least a few hours of music. With more storage, you can keep videos, photos, audio books and podcasts as well.

Extra features can mean more usability: Consider how you might use your MP3 player besides listening to music or audio books. In order to remain competitive, manufacturers have designed music players that do much more than just audio. Do you need to store photos or contacts? Would you also like to take pictures or video? Perhaps you'd like to track your workouts or listen to your player through your car's speaker system. Is it important for your cell phone, PDA and MP3 player to be housed in one single device? Take these factors into account as you shop.

Larger players usually have more features: Size is important to consider when you think of how and where you'll use the device. Sports manufacturers have created a variety of products, from sports bras to arm bands to sweatshirts, with differently sized built-in MP3 player pockets. Accessories like cases, speakers and even alarm clocks are designed with certain models and sizes in mind. Player size ranges from devices the size of a stick of gum to those the size of a sandwich. If you plan on watching movies or TV shows on your player, you might want one with a larger screen, too.

Battery life and charging options: Will you need your battery to last for a 12-hour flight or a one-hour run? Do you need to be able to charge it in your car, in a standard outlet or through a port on your computer? While most devices rely on your computer's USB port to repower, you can find adapter cables to charge your MP3 player in your car or in a wall outlet.

Buy MP3 Players
Back to Guides Directory