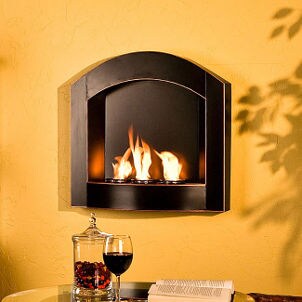 Nothing is quite as soothing as a crackling indoor fireplace when you want warmth on a chilly night. Fortunately, you can get the heat and calming effect of a wood-burning fireplace without the upkeep and mess when you buy one of the modern indoor fireplaces for your home. Whether you want a wall-mount fireplace for a small living room or a corner fireplace for your bedroom, you're sure to find a fireplace that keeps you cozy for years to come. Read on for tips on buying an indoor fireplace.
Buying an Indoor Fireplace:

Decide on a heating source. Indoor fireplaces can be heated by wood, natural gas, propane, gel and electricity. You'll want to look for a model that works with your home's existing heat source and consider whether it would be cost-efficient to have a propane fireplace or gas fireplace in your home. You may want to buy a portable fireplace heated by gel or electricity if it will help you cut down on heating costs. Gel fireplaces come in many shapes and sizes, so you're sure to find a model that will heat your home efficiently.

Choose between a built-in or portable fireplace. If you have the time and the space, why not incorporate a built-in propane fireplace into your living room or bedroom? These fireplaces, which sit flush against your wall, give any room an elegant touch. If your room isn't suitable for a built-in fireplace, a corner fireplace that uses gel fuel can save room and give you the warmth you need without having to install a propane or gas fireplace. For a portable fireplace that only requires space on one wall of your home, purchase a simple wall-mount fireplace; these models are powered by gel fuel and can be round or square in shape. A wall-mount fireplace can even become the focal point of your family room, especially one with a shiny stainless steel frame that reflects the flames.

Pick a fireplace that fits your home decor. Balance contemporary home design with gel fireplaces made of black steel or models lined with polished stainless steel. If your home has a more old-fashioned feel, why not buy an electric fireplace that includes a wooden mantel and paneling for a more traditional look? A white electric fireplace with earth-tone slate and molded accents can complement both modern and vintage decor with the right accessories.

Buy Indoor Fireplaces
Back to Guides Directory