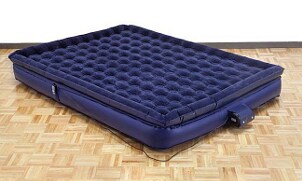 Whether you are looking for a way to make camping more comfortable or to give your overnight guests a better sleeping option, an air mattress is an affordable, convenient option. Buying an air bed is a simple process, but you'll still want to consider a few factors to make sure you buy an air mattress that is perfect for you.
Buying an Air Mattress:

Size: Air beds come in the same basic sizes of regular mattresses: twin, full, queen and king. However, there may be some minor differences in the dimensions of the mattress. One thing to consider when selecting a size, though, is that the edges of some air mattresses are not as supportive as a traditional mattress, so you may want to buy the larger size if you are debating on which size air bed to purchase.

Height: The thicker an inflatable air mattress is, usually, the more comfortable it will be. This isn't always the case, but typically, the more air between you and the ground, the better. A thicker, raised air bed also feels more like a real bed, because it is easier to get out of a high air bed than one that is close to the ground.

Features: Many air mattresses offer a soft suede or velour top that is more comfortable to lie against than the PVC used to make the majority of the mattress. The softer top material also isn't as slippery as the PVC, so it is less likely you will slide off the side of the mattress. Air mattresses often come with pumps. Some air pumps require a power source like a wall outlet or car power outlet, while other pumps use batteries.

Use: How you plan to use an inflatable air mattress should help make a lot of decisions easier for you. If you plan on using your raised air bed in your home for guests, you won't need to worry about getting a lightweight, compact air mattress. However, if you are going to be using your air bed when camping, you'll want to make sure it fits in your tent and is made from thick PVC that is less likely to develop a leak.

Buy Cots and Airbeds
Back to Guides Directory