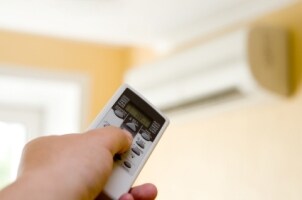 Keep your home cool during even the hottest weather when you buy air conditioning units. Whether you want a window air conditioner to keep in your bedroom or a portable air conditioner you can move to different rooms in your home when you need to, the following suggestions will help you find an air conditioner that works in your space and keeps the temperatures down. Read on for tips on buying air conditioning units.
Buying Air Conditioning Units:

Consider the size of your space. If you have a small home, you may be able to cool your entire space with just one or two portable air conditioning units. Look for styles that are lightweight and include built-in handles so you can carry them easily, or buy portable air conditioning units that feature sturdy casters for wheeling them from room to room. Larger homes may require built-in home air conditioning units that can control the temperature throughout various rooms. No matter what style you need, make sure to buy an air conditioner that has enough wattage or BTUs (British thermal units) to work efficiently in your space. Most home air conditioning units include information about the size of the room they can cool.

Think about the number of people in your home. Even the best air conditioner will have to work harder to cool a room if a lot of people are using it. If your whole family likes to sit in the family room on summer evenings to watch movies, for example, you'll want to buy an air conditioner with a higher wattage or BTU rating for that room. You will also want to find an air conditioner that has a high EER, or energy-efficiency ratio, if you'll be buying a large model that will run frequently. Large energy-efficient air conditioning units have an EER of 13, while small units have an EER of 11.

Find air conditioners with convenient features. Once you've decided on the size and style of air conditioning units that will work for your space, you'll want to find models that are intuitive and save you time. If a window air conditioner will cool your room best, look for a unit that includes a remote so you can easily control the settings from across the room. If you'll be using a portable air conditioner in different rooms of your home, find a model that includes a timer so it won't run constantly and will come on when you need it most. The best air conditioner will also include a thermostat, several fan speeds, an adjustable vent and an easy-to-clean vent that can be removed without any hassle.

Buy Air Conditioners
Back to Guides Directory