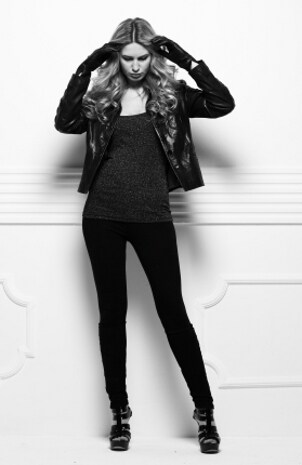 A comfortable, attractive pair of jeans can make or break an outfit. AG Jeans, from famous designer Adriano Goldschmeid, are always going to look great. With the perfect fit, special touches and a designer namesake, you'll always want a pair of AG Jeans in your closet. Of course, you don't want to just pick up the first pair of jeans you come across. You want the right fit for your body type and the right look for your tastes out of your jeans and denim. Read on for tips on purchasing the right pair of AG Jeans for you.
Buying AG Jeans:

A cut above: The cut is the most defining aspect of a pair of jeans. From tight to loose, straight to flare, jeans come in all shapes and sizes. AG Jeans are no different, and in fact, they put their own twist on classic cuts. Straight-leg jeans fit straight through the hip to the break, and AG Jeans gives them a modern twist with a slimmer version of straight. AG gives the boyfriend cut an edge with their line of Ex-boyfriend Jeans, which fit loose through the hip and thigh. The boot cut and flare cut fit tight through the hip and thigh, opening below the knee. AG's version of the skinny jean, the Stilt, is a classic cigarette jean with a slim fit through the hip and thigh and down to the ankle.

Pint-sized: AG Jeans has an extensive line of petite-size jeans. With a shorter inseam and rise, petite jeans are typically designed to fit women 5'3" and shorter. In addition, designer AG Jeans are reconfigured to fit petite proportions comfortably. It is important to choose either petite or regular jeans, depending on your height, for a fit that flatters your body type.

Crop and capri: Cropped and capri jeans are among the most popular AG Jeans designs. Most of AG Jean's cropped and capri jeans are simply shortened versions of their signature cuts. From skinny, barely-below-the-knee capris to cropped, destroyed boyfriend jeans, there's something short and sweet for everyone.

Wash, rinse and repeat: The color of your jeans, aka the wash or rinse, can change the look of an entire outfit. From light, medium and dark shades of blue to black, grey and even bright colors, you'll want to take special care to choose the right wash of AG Jeans for you. Many cuts are even available in a variety of washes to choose from. Light wash jeans are great with light, summery outfits, while dark wash jeans are typically the most slimming. For a classic look, choose medium wash AG Jeans.

Stretch: You want your AG Jeans to look good, but you want them to be comfortable, too. Some ensembles call for a more structured look, while others look great with a softer jean. Pay attention to the amount of Lycra or spandex in the fabric of your jeans. The more Lycra or spandex, the more stretch your jeans will have. Designer jeans like AG are also designed to stretch to fit your body, so keep that in mind when you're selecting a size.

Finish: AG Jeans are known for their unique distressed and destroyed details. With their signature angled whiskering, AG Jeans are easily identifiable. Destroyed knees and vintage touches make the jeans look as comfortable as they feel, too. If you're looking for a cleaner, more classic look, choose AG Jeans with an unaltered finish. There's hardly a jean more flattering than a solid dark wash skinny.

Buy AG Jeans
Back to Guides Directory