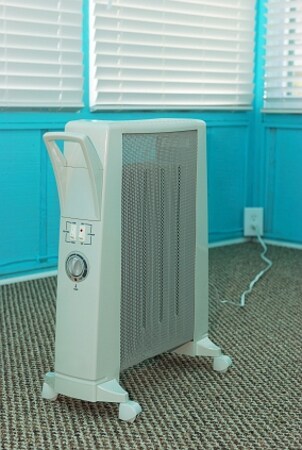 When your office is chilly or your bedroom is cold, you need a space heater to warm up the room. However, you may have questions about the best space heaters to buy for your home and which heaters will be more affordable and efficient to use. These tips will help you choose a space heater that will keep you warm.
Buying a Space Heater:

Determine the right size. If you'll be heating your office during the winter, you'll probably want to buy a small space heater that won't take up much room or energy to work. Portable space heaters are especially useful for the workplace, as you can store them beneath your desk when they're not in use. For a large room in your home, however, you'll want to buy a large unit, such as a 1500-watt space heater. You'll save energy and stay warmer when you buy space heaters that have enough power to heat the rooms in your home or office.

Keep safety in mind. Protect your family from burns or injuries associated with home space heaters with a few simple steps. First, look for thermostatically controlled electric space heaters; these save energy and allow you control the heat better. The best space heaters also have automatic switch-off features, which can prevent them from getting too hot or causing a fire. For further safety precautions, always keep your unit away from curtains, bedding, stacks of paper in an office, and other flammable objects.

Choose between radiant and convection heaters. Once you've looked at safe space heaters that fit your space, you'll need to determine whether radiant or convection heat is best. Convection home space heaters heat the air in your home, making them ideal for large rooms or areas. A radiant heater, on the other hand, works better as a small space heater because it uses infrared radiation to warm people sitting within its line of sight. Buy space heaters based on how frequently you'll be using them, too; radiant heaters are best for heating a room for only a few hours.

Think about energy use. To save money on your power bill, you'll want to buy energy-efficient space heaters for various rooms. Electric space heaters are among the most energy-efficient, especially those with thermostats that control the amount of heat you use. You'll also save money by purchasing portable space heaters that can easily be moved from room to room, so you only heat the room you're currently using.

Buy Heaters
Back to Guides Directory