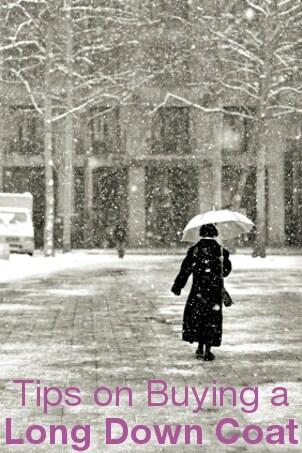 SHOP WOMEN'S OUTERWEAR NOW >>
When the temperature is dropping, you need durable women's coats to keep you warm. If you're looking for a heavy winter coat that will protect you in the coldest weather, consider purchasing a long down coat. With their length and ultra-warm filling, these ladies' coats are the perfect addition to any winter wardrobe. Here's what you need to know about buying a long down coat that will keep you warm this winter.
Buying Long Down Coats:

Find one that flatters you. Wearing a coat that makes you feel dowdy can add to the winter "blahs," so before you buy a down coat, consider your height and body type. If you're petite, look for long ladies' coats that hit at about mid-thigh, so your coat doesn't overwhelm your frame. Tall women can buy down women's coats that extend to mid-calf if they prefer, while women of average height look great in women's winter coats that fall to the knees. If you have a curvy figure, find a coat with a belt to accentuate your curves.

Look for a style you like. Today, the traditional women's down coat doesn't just come in the puffy, hooded style. If you like the look of sleek women's outerwear but still need the warmth of a down coat, try winter coats with belted waists and discreet side pockets. Some have specially stitched lines that will show off your shape under that thick layer. You can also find coats for women that feature quilted down in a chevron stripe pattern, an especially slimming look.

Consider stylish features. Protect yourself from chilly blizzards or fierce winds in coats for women that include faux-fur hoods. A hood lined with durable nylon is especially effective in a rain storm. Decide whether you would like your women's winter coats to feature buttons, snaps, or zippers for convenience. Choose between women's coats with cargo pockets or simple slash pockets, too.

Pick a color you'll want to wear all winter. Women's outerwear comes in many different shades, so consider your wardrobe before purchasing a new coat. If you wear a lot of bright colors, a black or white coat will go with almost anything; a red coat can be a fun addition, too. Purchase a brown or grey coat to complement a classic, neutral wardrobe or look for a down coat in a plaid or houndstooth pattern for an updated look.

Shop Women's Parkas
Shop Women's Coats
Shop All Women's Outerwear
See All Guides
Read More Clothing & Shoes Guides
Learn More about Outerwear
Published August 3, 2010
Updated November 28, 2014