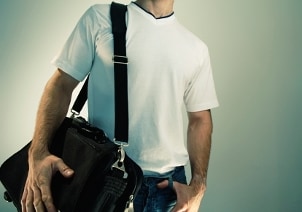 To carry your laptop around, you need a laptop messenger bag when laptop backpacks and briefcases won't do the job. Laptop messenger bags are typically designed with several compartments that hold the laptop in place and protect it from the elements and breakage. A laptop messenger bag is a versatile and attractive choice for business people and travelers who want to carry their laptop or netbook discreetly and safely. These laptop bags are designed with a single strap that fits snugly across the body so that you can keep your hands free while moving or when you need to carry additional things. There are several key features and design elements to consider when shopping for the ideal laptop case; keep reading to learn some tips on buying a laptop messenger bag.
Buying Laptop Messenger Bags:

Sleeve size: Standard laptop messenger bags are designed with interior laptop sleeves to fit laptops with screens of 15 to 17 inches, although many will fit smaller netbooks of 10 or 13 inches. Make sure the bag you pick will accommodate your laptop. If the laptop sleeve is too small, the seams could tear when you put your laptop in; on the other hand, if the sleeve is too big, your computer will slide around, making it more likely that your laptop could get damaged.

Compartments: Many laptop cases are made with several compartments to store your cell phone, computer cords, CDs or DVDs, planner or notebooks, pens, business cards and other accessories. Some have zip-down workstations that can be rolled out to store a wide range of supplies. Select a laptop messenger bag based on the accessories and supplies you intend to carry with you in addition to your laptop.

Materials: Laptop messenger bags made with leather, nylon or canvas are the most durable and popular. Leather can be pricey, but its natural strength protects your laptop while the high-end look is appropriate for work and other situations. Canvas is another natural material known for its durability, and it's easy to clean and more affordable than leather. Nylon combines all of these benefits for a strong, machine-washable bag. Whatever material of messenger bag you choose, be sure it has sufficient foam padding to provide cushioning and hold your laptop in a secure position.

Straps: You will want a laptop bag that fits snugly and comfortably across your body and does not slip off your shoulder. Look for an adjustable strap and a body-contouring design for the best fit.

Buy Laptop Cases
Back to Guides Directory