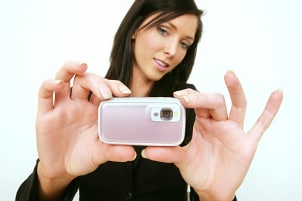 So, you're ready to step into high-definition digital photography with a new digital camera. With the right model, you can take stunning digital photos to share with friends and family, without the hassle of developing the pictures. To help you make the best choice, here are some important criteria that can help you know what to look for in a digital camera.
Choosing Digital Cameras:

Check the speed: While a 1.5-second delay might not seem like a big deal, it can really slow you down while taking successive shots, especially when you're shooting action photos. The delay can lead to blurred images and missed photo opportunities. You can find digital cameras with shutter speeds of less than one second that will significantly reduce these problems.

High resolutions mean higher detail: Understanding how many megapixels (MP) you need in your digital camera is essential if you want high clarity and detail in your photos. The more pixels your digital camera can capture in an image, the more detailed it is. A camera with 2 or 3 megapixels will be fine for family photos and snapshots. But more detailed close-ups and other shots may require digital cameras with 6 megapixels or more.

Be sure to have plenty of memory: Digital cameras typically come equipped with memory cards that can store a certain amount of data. The higher the resolution, the more memory is needed to store each image. You may need to buy a few high-capacity memory cards in order to store all the high-resolution images from your photographic expeditions -- depending on how many pictures you plan to take, of course. At 6 megapixels per image, you can store about 300 photos per gigabyte of storage.

Durability is essential: Some digital cameras advertise impact-resistance ratings and are usable in a variety of weather conditions. Some cameras are even waterproof to a specified depth. A moisture-resistant digital camera will hold up well to humidity and will even stand a little light rain. Having a good camera case can help protect your camera as well.

Pick a style that fits you: Looking for a hot pink, high-resolution, high-capacity digital camera that just happens to match your new shoes? Not everyone likes the traditional black-matte camera style. You might have to look a bit harder than most, but there are many stylish digital cameras to choose from that don't sacrifice quality in the name of good looks.

Buy Digital Cameras
Back to Guides Directory