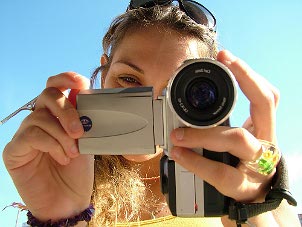 Digital camcorders have made the process of recording your memories easier. The real challenge in choosing what to look for in a digital camcorder is that so many options exist. Image quality, usability and other features can all be factors that influence which digital camcorder you decide to purchase. Here are some tips to help you know what to watch for when comparing digital video cameras.
Examining Digital Camcorders:

Find the maximum storage capacity. The size and type of media storage is an important element in choosing a digital camcorder. Whether you choose to record directly to a DVD or to a memory card depends on what is convenient for you. Memory cards are obviously more compact, but DVDs are ready to play right out of the video camera. Either way, always be sure to carry enough spare discs or cards to record the number of hours of video you'll be shooting with your camera.

Image stabilization can steady your shots. The image stabilizer helps minimize shaky video footage. Shaky video can be distracting, so a digital camcorder with image stabilization can help if you don't have a tripod handy.

Optical zoom provides better images. Check the optical zoom of the digital camcorder rather than the digital zoom. Digital zoom blows up the existing image, sacrificing picture quality somewhat. A camcorder's optical zoom actually uses the lens to zoom. The optical zoom is much more useful than the digital zoom. The optical zoom should have a ratio of 10:1 to 26:1.

Save the battery with a comfortable eyepiece. Most digital cameras come with an LCD viewer that flips out and gives you an image of what you are filming. This viewfinder is easy on the eyes and convenient, but using it gobbles up the battery power of your digital camcorder. Use the viewfinder as much as you can, but when the camcorder is running low on battery power, close the viewfinder and use the eyepiece.

Check for Firewire or USB ports. A digital camcorder will have either a Firewire jack or a USB port. Both cables connect the digital camera to your computer. USB is the more common technology, but check your computer to see which technology it supports.

Buy Digital Camcorders
Back to Guides Directory