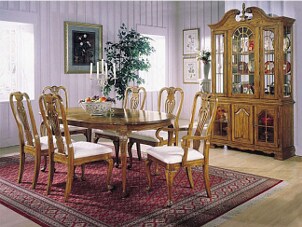 Displaying fine china in your china hutch adds a nice touch to any room. Whether you want to display your dishes or just store them safely, a china hutch is the perfect solution. China hutches, also known as buffets, are available in a wide range of styles and sizes, which makes it easy to find one that will fit your other dining room furniture. Their sturdy build means that your china hutch will last you and your family for many, many years. Keep reading for helpful tips on buying a china hutch to make sure you buy the right one for your home.
Buying a China Hutch:

Know what you're going to display. Do you want your china collection to be the focal point or the china cabinet itself to be the focal point? Glass-front china cabinets are best if you are proud of your china collection and want it to be on display. A buffet without glass-paneled doors will protect your china but won't display it as prominently.

Measure your available space. Know how big of a hutch you can buy before you start shopping. In addition to knowing how much space you have, you'll also need to leave enough room to walk around the hutch once it's installed in your home.

Know where you're going to put it. The proportions of your china hutch should match the wall it sits against. A longer buffet looks best on a long wall. A tall buffet will work best with a tall wall. The presence of windows might alter this, however, as they might create a nice frame for the buffet.

TThink about your other furniture. A china cabinet doesn't have to exactly match your existing dining room furniture, but it shouldn't clash with it. People expect china cabinets to be passed from generation to generation, which means they'll understand if it doesn't exactly match your dining table. However, a brand-new ornately carved china cabinet will look out of place in a modern dining room. Do your research in order to find the best china cabinet for your home.

Think about the future. A china hutch is a piece of furniture that will last you for many years, maybe for many generations. Don't focus only on what you want it to do today, but think about buying a china hutch that will please you and future generations. Buy one made of sturdy material and, if at all possible, get a warranty in case of accidental damage.

Buy Buffets
Back to Guides Directory