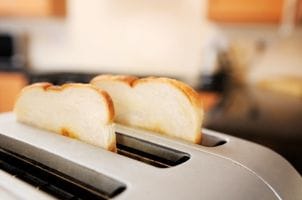 When it comes to toast, the more the better and four slices are always better than two. Buy a 4-slice toaster and simplify breakfast and other meals for your family. Whether you want a retro toaster with rounded edges and chrome plating or a digital toaster to ensure you toast each bread slice to perfection, the following suggestions will make it easy to find the right toasters for your home. Read on for tips on buying a 4-slice toaster.
Buying a 4-slice Toaster:

Consider your counter space. Even the best 4-slice toaster will take up more room than a traditional 2-slice toaster will. However, if you have a small kitchen but still want the convenience of a larger toaster, you can often find compact models that save room. Buy a toaster with sleek, curved edges, a cord wrap and slim dials to keep your countertop clean. Find the best toaster for your kitchen by measuring both the length and width of the space you have available. Some toasters are designed with extra-long slots to accommodate two slices each and are much narrower than traditional 4-slice toasters; these options can also save room in your kitchen.

Look for custom features. Burnt toast is maddening, but you can prevent it with the right electric toaster. Look for models that include defrost and reheat functions so you can quickly toast frozen pastries or heat a lukewarm bread slice, and find an electric toaster that has extra-wide slots for toasting bagels and buns. You can even buy a toaster that counts down the seconds until your toast will be ready and beeps when it is finished. A digital toaster often features up to eight browning settings, too, so that you can keep your bagel from getting too crispy. Make sure your toaster allows you to set the slices at different settings so you can please the entire family. The best toaster will also include a cancel function to automatically pop up your toast when you're in a hurry.

Decide on a finish you like. While you may be partial to a black toaster that matches the rest of your appliances, there are many different toaster finishes available that complement your kitchen. Buy a stainless steel toaster to fit your contemporary style or brighten up a drab room with a retro toaster in electric blue.

Buy a toaster that is easy to clean. The best 4-slice toaster will include a removable crumb tray and a simple exterior for easy cleaning. A stainless steel toaster can be polished with a little rubbing alcohol when it becomes dull, and you can clean a black toaster with soapy water. Make sure you never clean the interior with either water or rubbing alcohol; this will ruin your toaster.

Buy Toasters
Back to Guides Directory