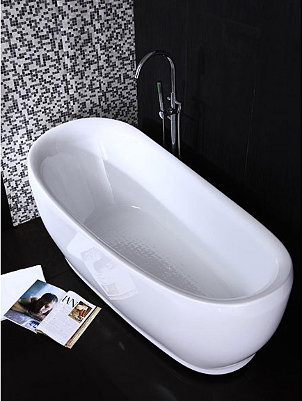 Today's homeowner has more decorative choices than ever, and bathtubs are no exception. With the wide variety of interesting bathtubs to choose from, the tub can be the decorative focus of the bathroom. However, before you can enjoy the looks of your bathtub or enjoy taking a long, hot bath, you will first have to install your bathtub, a task made much easier with a bit of knowledge and research beforehand. Take a look at this article to learn some handy tips on bathtub installation so you're not caught unprepared when it comes time to install your fancy new tub.
Installing a Bathtub:

Standard-size tubs: The size of a standard bathtub is 60 inches long by 30 inches wide, though soaking tubs run a bit larger. This size is capable of holding 50 gallons of water. Choosing a standard-size tub has many benefits. These tubs will fit through almost any bathroom door, are easy to buy and install and can usually be carried up a flight of stairs by just two people of average strength.

Larger tubs: Larger tubs, such as soaking tubs, clawfoot tubs and those equipped with whirlpools and jets, are more difficult to transport because of their size and weight. You may have trouble fitting them through doors and tight spaces. Measure both the size of the doors and any corners or small spaces through which your tub will have to be transported. While larger soaking tubs or clawfoot tubs can be more difficult to get to the bathroom, if you enjoy soaking in a bathtub, the effort may be well worth it.

Supply pipes: Most tubs use 1/4-inch pipes to supply water to the basin. This is fine for small and standard tubs, but if you have a larger tub, a more efficient choice is to use 3/4-inch supply lines.

Water heater: A large bathtub also needs a large water heater. Otherwise, you will find the water only lukewarm by the time the tub is filled. If your tub has a capacity of up to 80 gallons, you will need a water heater with a capacity of 50 to 75 gallons. For luxury tubs that contain more than 80 gallons, consider buying a larger water heater.

Weight: Residential homes typically are built to withstand the weight of a standard tub, but a whirlpool or Jacuzzi tub may be a different matter. Also, some clawfoot bathtubs, especially all-metal ones, can be far heavier than standard fiberglass tubs. In some cases, you made need to strengthen the floor joists in the room. Before you begin the installation process, check your floor joists to see if they can withstand the weight of an oversized bathtub.

Buy Tubs
Back to Guides Directory