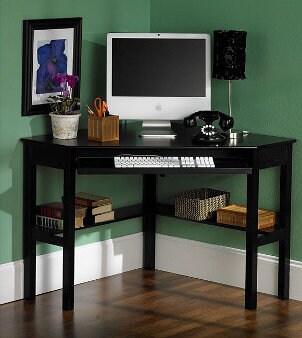 Most computer desks are not assembled when you purchase them, especially when you are shopping online. However, your new desk should come with instructions to help you put everything together quickly. With a few tools, a little time, and a helper, you can put together your new computer desk and get to work.
Assemble a Computer Desk:

Read through the instructions before you start. Whether you've purchased a complete home office furniture set, a computer armoire, or a simple desk, you'll need to carefully read through the assembly instructions before you start putting anything together. This will help you make sure that you have everything you need and will also prepare you to put the furniture together.

Make sure you have all the parts for your new computer desk. A list of parts should be included with the instructions. Unpack everything and organize pieces into separate piles to see if you are missing any parts. This will also make it easier to find the right part when you need it.

Collect the right tools. Most computer desks have screws or small bolts that need to be tightened with an Allen wrench. The instructions should tell you what you need. Usually, if the desk needs an Allen wrench to tighten the pieces, one will be included with the parts. You may also need a screwdriver and possibly a rubber mallet. If you do not have these tools, you might need to make a quick trip to the hardware store before you get started. Making sure you have the right tools before you start will save you a lot of time and frustration.

Ask a friend for help. Sometimes an extra pair of hands is necessary to hold desk pieces together and tighten the screws. Your friend will be able to hand you the pieces and tools you'll need. Having an extra set of hands can make the entire process faster and easier.

Screw the parts together gently. Be careful not to cross-thread bolts or screws as this keeps them from tightening all the way down. Also, don't over-tighten, as this can strip the thread and lead to a looser attachment point. Tighten your screws and bolts until they are secure.

Prepare the desk for use with a thorough cleaning. Before placing your computer and other desk accessories on the desk, follow our guide on how to clean computer desks, so you can start out with a fresh, clean workspace.

Buy Computer Desks
Back to Guides Directory