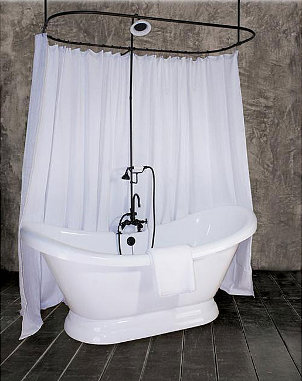 The latest trends in luxurious bathing have made soaking tubs one of the most popular choices for modern bathrooms. A large soaking tub can turn your master bath into a miniature spa. These larger bath fixtures do require some planning and installation considerations, so here are some tips for using a soaking tub for the ultimate relaxation atmosphere in your home.
Soaking Tub Recommendations:

Luxury isn't confined to the bathroom. If you're not interested in remodeling your bathroom or there simply isn't enough space for a clawfoot tub or pedestal tub, you can fit the soaking tub somewhere else. With the proper plumbing fixtures, you can install one or more soaking tubs on a deck, a patio or in a tranquil garden. Or you can turn a spare room into a miniature spa. Try to find ideas for creating relaxing spaces in and around your home.

Soaking tubs may require changes. Because soaking tubs have a larger footprint than traditional bath tubs, you might need to make changes to the room for it to fit. If the original bathtub was in an enclosure, you may have to install the new soaking tub in a different location or alter the enclosure to fit the tub. Also, the drain and faucet plumbing may need to be rerouted to accommodate the new tub location. Remember that soaking tubs and the extra water they hold add significant weight that your floor will need to support. Be sure that your floor can handle the additional weight.

Pick a tub to match your bath style. There are a number of soaking tubs to match whichever style you want to achieve in your bathroom. You can choose an old-fashioned clawfoot tub style or look for something more modern with straight lines and angles. The plumbing fixtures you choose may have an even bigger impact on the style. You can choose a tub with or without the hardware included, so keep your style in mind when making your selection.

Create a relaxing space around your tub. A nice large bathtub is really only the one part of creating a quiet, relaxing area that you can unwind in. Add some relaxing music, aromatic candles, your favorite book or anything that helps you relieve stress. This is your space.

Buy Soaking Tubs
Back to Guides Directory